256: Daniel McKenn's Mysterious Injury Plus Our Interview With David J. Miller, Phd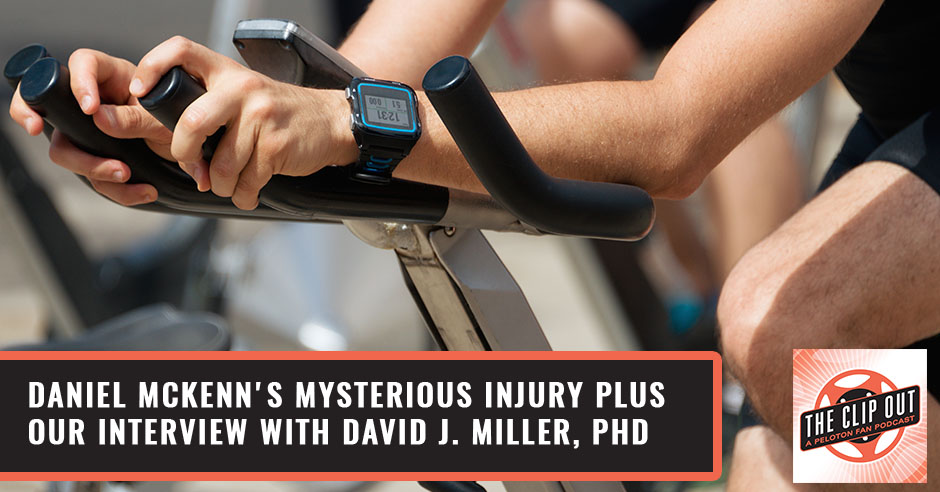 Homecoming details have been announced.
The date for the next earnings call has been announced.
Wendy Robinson writes about how Peloton deals with weight.
Comics & Gaming Magazine reviews Lanebreak.
Bicycling.com spotlights Marc Nevin who lost weight and fell in love with cycling because of Peloton.
Dr. Jenn – How to delegate chores to find time for exercise.
Daniel McKenna gets injured.
Peloton continues Rock22 challenge with Women of Rock classes
Tunde sets her book launch for Tysons Galleria.
Jess Sims was on Good Day New York.
Camila Ramon talks about body positivity with Mitu.
Cody Rigsby speaks at NAB.
Marcel Dinkins was part of the USO's Women's Empowerment Summit Panel.
The Spruce talks to Hannah Corbin about her flair for interior design.
Mariana Fernandez filmed new scenic content in Puerto Rico.
Kirra Michel celebrates her first year at Peloton.
Angelo joins us to discuss maintaining consistency when everyone in your house eats differently.
Birthdays – Chelsea Jackson Roberts (4/30)
All this plus our interview with David J. Miller, Phd!
—
Watch the episode here
Listen to the podcast here
Daniel McKenn's Mysterious Injury Plus Our Interview With David J. Miller, Phd
We should start by saying John Mills won't be with us for this episode. He's traveling to visit families. I hope he has a good time. He will return in the next episode. 
He will be all refreshed and ready to be feisty with us, I hope.
We like feistiness. Also, some house cleaning. Don't forget, we have our Olive & June masterclass coming up. People have been signing up for that.
It's on Saturday, May 21st at either 11:00 or 12:00 Central. I can't remember. It changed several times but it's happening.
You created an event and it's in the group. People can go over there and RSVP so they can get notifications and all that.
You have to sign up for the Olive & June link. Even if you go in click going, that's not good enough. You need to go into the Olive & June links so they know you're coming.
We also included that in the newsletter. You have another reason to sign up for our newsletter at theclipout.com. We also have another event that we pull the trigger on. We are doing a night out with The Clip Out if anybody wants to come to St. Louis to hang out.
I know you don't. I get it.
We're trying to sweeten the deal. We know that there's a huge contingent of yacht rock fans out there. If you want to come and hang out, we will figure out something fun to do during the day but in the evening, we have a suite set aside for up to 28 people. It's for a show called Sail on an Evening of Yacht Rock Classics. You get to see an all-in-one show with Firefall who sang You Are The Woman and Cinderella.
They've got a ton of hits, then Orleans who sang Dance With Me and Still The One, and then Pablo Cruise who sang Whatcha Gonna Do. I don't know where you live but I couldn't tell you the last time he played in St. Louis. It's been a while since they've played here anyway, and then Walter Egan who sang Magnet and Steel, and Peter Beckett from Player who sang Baby Come Back. He was also on a soap opera and all the ladies think he was dreamy. He's like a poor man's Rick Springfield.
I would be okay with that.
He was on a soap opera and he had a big hit song.
I think will be fun. We're going to go and listen to a bunch of great music. For the suite tickets, it's $90.
That includes your food and beverage. It is not unlimited. Don't go crazy. There's a food and beverage package associated with that. There will be drinks and whatnot. You can have a chicken tender with me.
We have an extra section too. The first 28 people get to be in the suite and you have to be paid. It doesn't count if you say, "I want to go." The only way that it counts is if you actually pay.
If we do fill up, we still have room for some more in some other capacities. Anyway, you can also find that at the group for The Clip Out. We will have information about that in the newsletter as well. What's pray tell do you have in store for people?
There are still people that think Peloton is a joke, that it's just a bike with an iPad.
Click To Tweet
We're going to talk about homecoming. We're going to talk about the upcoming earnings call. We're going to talk about an article that is going around and getting all kinds of traction, Loving a Company That Doesn't Love You Back. The instructors have been everywhere. We got to talk about that. Dr. Jenn stops by and she talks about how to delegate chores to find time for exercise. We also had a visit from Angelo and he talks about maintaining consistency when everyone in your house eats like a Tom. We discuss all of that plus all kinds of news.
Before we get to all that shameless plugs, don't forget we're available on Apple Podcasts, Spotify, Google Podcasts. Wherever you find a podcast, you can find us. While you're there, be sure and rate us. That will be nice if it was a nice little review. You can also follow us so you never miss an episode. If you want to stay up to date on things throughout the week like the activities we were discussing, you can join the Facebook group. You can start by going to our page, Facebook.com/TheClipOut. While you're there, like the page then join the group. You can also sign up for our newsletter at theclipout.com where we will pester you ever so infrequently, generally weekly.
It's just once a week. We like to send a digest of all the articles we discuss.
You can do that at theclipout.com. Finally, you can watch all of these episodes at YouTube.com/TheClipOut. There's all that, let's dig in. Shall we?
We shall.
—
Homecoming has been officially announced.
The lineup has been announced. Homecoming itself had already been announced.
Now we know the deal.
For those of you who have not been paying attention that closely because you're not obsessed like I am, it is two days versus three days. The interesting thing is people are confused. If it's only two days, why are we starting on Friday? Here's my theory. It's because, in Australia, it's Saturday and Sunday. If they started on Saturday and Sunday, it would be Sunday and Monday, which would be even weirder. It's just a theory. I have no idea if that's accurate.
If you scroll down, we've got the lineup that we can discuss. At 10:00 AM Eastern, the keynote starts off with the Pulse of Peloton. It's interesting because it does not say who's leading the keynote. It doesn't say who's going to be doing this at all. Is it going to be Foley? Is it going to be Barry or somebody else? We don't know. That will be interesting.
They're going to be recapping highlights. They're also going to be talking about things, special announcements, the Rower. We have the Power of We coming up at noon. That's going to have Robin Arzon, Leanne Hainsby and special guests. This is new. DJ John Michael is going to be featured. He has never been featured,
Was he a full-time employee last time or was he still freelance? I can't remember exactly when that happened.
He was full-time but he's going to be on a panel. They're going to talk about what goes into creating scenic rides and runs, how they create their new podcast episodes and the story behind Lanebreak. That will be good. We then have the Warmup. This is going to be talking about the artist series and live DJ classes. That's going to be Daniel McKenna, Marcel Dinkins and special guests.
On Saturday, there's going to be love for the German community and then we've got love for the UK community. You can see a theme here. Love for the Spanish-speaking community, and then there's going to be a get to know Guide. That's going to take place on Saturday and it's going to be looking at how they're changing up the strength training with the Guide. That's going to be Callie and Andy. There's a conversation on mental health with Kendall and Sam Yo. You had to know that was coming.
She talks about that a lot.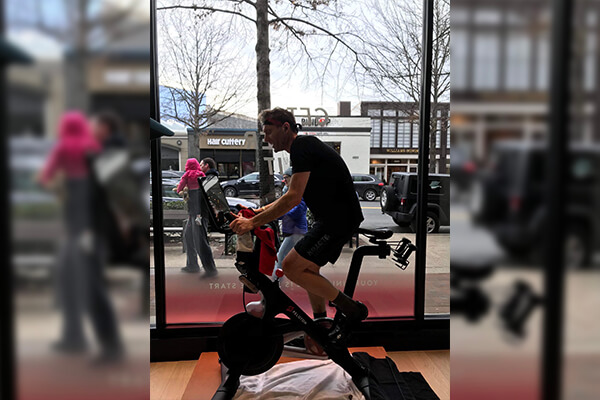 That's her big thing. Dr. Pooja is going to be there as well. She's one of the people on their advisory board. They have the playlist that people put together, which they do every year. You can add your photo to the 2022 photo mosaic. There are lots you can do over there. I want to point out that I have had more than one person say to me, "Oh my God, X instructor is not included." Please stop with the drama. It's fine. All of these have special guests. My guess is that the instructors will be showing up as the special guests so it's going to be okay.
It's also a way for them to not necessarily lock into a certain instructor. They are very busy these days. That way, if someone shows up, great. If not, they didn't promise you a certain person.
I thought this was very interesting. Do you know what they did not do this year?
What's that?
The little meetups. Do you remember the little fun five-minute meetups? Do you remember the guy that did all the planks, the burpee challenge guy? He was everywhere. That was so much fun. I'm surprised they're not doing that because people love that.
People seem to dig it. It was like chat roulette but for Peloton.
It was a lot of fun. I thought that was interesting that they didn't have that. Other questions, people have asked me. If you want your questions answered for any of these panels, submit them now. There is a live chat. They hardly ever answer the actual question. If you want your questions answered, the best way to do it is to go ahead and submit them early. That is my homecoming information.
The next earnings call has been announced. Hopefully, it's actually an earnings call.
It appears to be. It's interesting that the only time they've had a morning call was when they sadly got rid of a bunch of people. Now they're moving this earnings call to the morning. This one will be on Tuesday morning, May 10th. Isn't that interesting?
I wouldn't think that that's in the cards.
I've heard nothing to make me think that. I just find it interesting that they're making that shift. I've had people say that it's probably because it's best practice to do it before the market is open for the day. I'm like, "Then why weren't they always doing best practice?" Other people said it's because they have new leadership. I don't know.
I think it's because uncle Barry has an early bedtime. He's like, "I don't want to stay up at past five."
We know that he's an early riser because he always did the Power Zone challenges early in the morning.
This is like 2:00 in the afternoon for him.
I think that's what we got going on.
There was an article making the rounds that people have had lots of opinions on. It's from a Substack. The Substack is from Anne Helen. She had turned over her Substack to a guest writer by the name of Wendy Robinson. It's all about loving a company that doesn't know how to love you back. She is fat, her words. I feel weird saying that like I'm calling her a name, but that was her. I guess it's like queer. When I was growing up, queer was like a slur. At some point, it stopped being that and they took it back, which is great but I still feel weird saying it sometimes. She writes all about Peloton and how they interact with the fat community.
Peloton is selling happiness, health, and well-being which are all in very short supply today.
Click To Tweet
She feels uncomfortable with the fact that they don't talk about weight, which I find interesting because Peloton has always purposely not talked about weight. The goal has been that they meet you where you are regardless of weight. This person goes on to say not really because if it was that, then they would also have instructors that were a larger size. I don't know if that's true.
Christine is taking some heat for not fitting the traditional mold of a fitness instructor.
Let me be clear. Christine is not fat. She is in amazing shape and could kick our asses. I want to be very clear about that, but because she does not look the way a supermodel looks, she has taken heat for that. I am not sure that Peloton would choose to have instructors, not even just because they don't want to deal with that, but because maybe the instructors don't want to deal with it. I can't even imagine the pressure that that would feel.
I guess that's the choice of your brand and you're used to that. Ultimately, it wouldn't be our choice. It would be that instructor's choice. It's ultimately Peloton because they're the one writing the check. I'm of two minds because I get that on the one hand, Peloton has never talked about their product in relation to weight loss. That has never been what their model has been, which is pretty forward-thinking. If you look at most other fitness brands, they still talk about it in that regard. On the one hand, it's forward-thinking. On the other hand, it's also similar to how people's views on race have evolved over time. It used to be like, "I don't see color."
Now we're like, "That's ridiculous. Of course, you see color. It's not about pretending like there are no differences. It's about trying to accommodate and acknowledge differences. I also get it's probably difficult to stop down in every class and address every different permutation of differences that are out there like, "Here's what to do with the bike if you're tall. Here's what to do with it if you're short. Here's what to do with it if you're missing your right leg versus your left leg," Down that road lies madness as well.
That's also true. Although I will say that the author also addressed that by saying you could have a series of videos that address those modifications one time. You wouldn't have to do it, and that is fair as well. I think that it is probably very difficult to be a company the size of Peloton and try to think about how you're affecting everyone all the time. I think about conversations we've had going all the way back when we interviewed Kristin Fleschner. She was like episode 101. It has been a long time ago.
She talked about all the modifications that Peloton could do to make it more comfortable for people that didn't have sight or that were deaf or a myriad of other things that Peloton could look at. All of that needs to be taken into consideration. You then have people who are large enough that maybe they can't get all the way down on the floor because their breasts get in the way or their stomach gets in the way.
How do you make modifications for people that are dealing with those issues? I don't know. Maybe Peloton is already looking at these things. The biggest thing that I thought was interesting is I've noticed that Peloton is still not great about selling the larger sizes of clothes. They used to have a very small variety, then there was a time that they were involved with one of the Peloton members that had a clothing line that they did. They had expanded sizes. They worked together with Rochelle
Was it the Miami Fitwear?
It was and that was Raquel, and then Rochelle Martin also worked with Raquel. They worked with Peloton to get those sizes expanded. They still have expanded sizes but you don't see as many of them and you don't see as many options. It quietly went away. They quietly stopped using Miami Fitwear, probably because they were getting ready to do their own. The rest of us didn't know that. Anyway, I think that it must be very difficult to think about all of those things all the time. That's what I'm trying to say.
I would think so. I would end by saying that ultimately, Peloton is a multi-billion dollar global conglomerate and they don't love any of us back.
That is true. That is an excellent point.
At the end of the day, they generate revenue. I don't even mean that as a character flaw, but Peloton is not a living and breathing human being. It's a brand that has inspired a lot of passion. The existence of this shows is proof of the passion that it has inspired.
Even look how like that has evolved over time. I don't just mean the show. I mean our relationship with Peloton. Even that is different since there are now a bunch of knockoffs. There are so many people to interact with. They can't even interact with everyone they want to interact with, whether it be a clothing brand or a third party software or a podcast. There are too many of us trying to do things with them. That has all evolved. They care about us but they don't love us.
No company loves you. I love Disney. I promise you, Disney doesn't give two shits about me, and that's okay. They're a company. CGMagOnline has a review of Peloton Lanebreak.
I continue to be a proponent of Lanebreak. I still think it's a ton of fun. There are new classes dropping. As a matter of fact, there are a bunch of rock classes that dropped. They don't count towards your Rock 22 challenge, but I challenge you to go try them because they are so much fun. Anyway, this article goes on to say that not only is Lanebreak a lot of fun, but they think that everything is going to be gamified regardless. It's across the board, not just in fitness but in every industry. I think that's true because it's what engages us.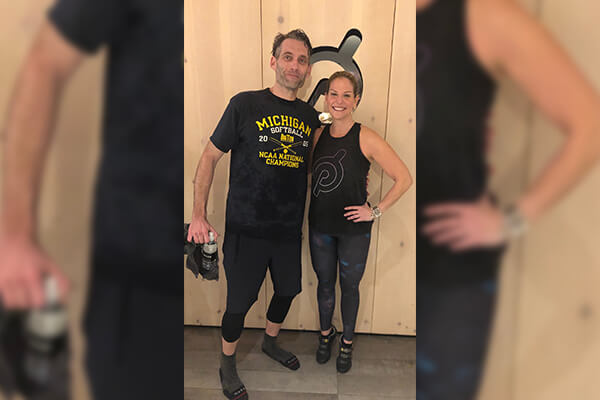 It's like how now everything has wifi. Now it's going to be like you have to play Tetris for your toast to cook.
I will.
I won't. It's too much work. I will go buy an old toaster. Bicycling.com has an article about Marc Nevin and how he discovered Peloton. That helped get him hooked on cycling and he lost 80 pounds. Now he loves bike riding.
I love this article because this is my original journey with Peloton, not losing 80 pounds. I don't want to take away from what he did because he lost 80 pounds and that's amazing. Getting involved in a sport that you never thought you could get in involved in is so cool. He went from riding a bike to riding outdoors. There are a lot of people in the Peloton community that do that. Join the Road Rider's Group if you don't believe me, or if you want to have somebody help spend your money.
They will get you to buy a bike is what you mean.
You will absolutely buy an outdoor bike. Whether you ride it or not, you will get one. I think it's cool that not only did he get healthy but he also found a whole new sport in a whole new community. To me, that is what Peloton is all about. I could read these stories all day. They make me so happy.
—
Joining us once again is Dr. Jenn Mann, licensed marriage, family and child therapist, and Sports Psychology consultant. You may know her from VH1's Couples Therapy with Dr. Jenn or VH1's Family Therapy with Dr. Jenn. She also has an app called the No More Diets app. You might want to check that out as well. Ladies and gentlemen and all points in between, it's Dr. Jenn.
Hello.
Thank you for coming back. We have another question for you. This one is from Colleen Kaiser. She starts her new full-time job. She was a substitute nurse and now she has a staff. First of all, congratulations, Colleen. She plans to workout in the morning before work as she does not have to be in until 8:00 AM, but she wants to plan on how to delegate some chores to her family so that it fits into her new schedule. What advice do you have for her?
First of all, she needs to make sure that all of the chores are age-appropriate. They are things that you have seen that your children have some sense of mastery over and that you're not giving them a new chore that they have not demonstrated that they can do, then while you're on your bike, you're expecting them to know how to do that.
Secondly, I also would recommend looking at the time element of that like what time do they have to leave for school? How long do I estimate this chore will take them? Add in some cushion in case things go wrong. I would also want to involve the kids in the choosing of the chores. Maybe you make a list of all of the chores. Sometimes it's easy like, "Of all the chores, this is what I like. I love to organize so I will put away all the plates. I like picking up heavy things so I'm going to take out the trash."
You may have some kids that are like, "This is my chore of choice." You may sometimes have kids who are fighting over chores. In which case, what I recommend doing is rotating. I have a list of the chores and put it someplace where everyone can see so that there aren't any fights about, "This is my chore. You did that last week." Put it up where everyone can see. This week, Bobby does this chore. Susie does this chore. Jane does this chore, and then it rotates the following week. Make sure that the communication is clear. Make sure that everyone knows who's doing what.
That's great. I like the rotating, especially.
That's because you're a project manager and you like to manage things. I was like, "Rotating? That sounds like a nightmare."
It's way more work but if you have kids who all want to do the same chore, you're going to end up with more fights and conflict. Also, you want to be fair.
Ever since the founder left, no one knows who Peloton is these days.
Click To Tweet
Sometimes it's the opposite problem where everybody fights over the chores they don't want to do that's. That's a good way to handle it as well.
How do you get the kids to buy in on something like that?
There are some families where the kids are natural like, "That sounds fair. Let's do it." There are other families where the kids are not used to doing chores. In which case, you may need a little motivation like, "When everyone has completed one week of this and it has gone smoothly, we will plan a family outing or we will get a pool raft," whatever it is. Something that the whole family can use together and be excited about.
I was thinking about our kids because they bitch about everything.
In our house, it would be like, "Rock band?"
That was a short one but thank you so much for the advice. Until next time, where can people find you?
You can find me on all social media @DrJennMann. All my Peloton workout are on my Insta Stories. Also, every week in InStyle magazine, Hump Day With Dr. Jenn. I have a weekly column about sex and relationships.
—
Daniel McKenna has a mysterious injury.
We don't know what happened and he's not saying. He said he had an injury outside of work that set him back for a few weeks. He is wearing a sling or a cast. I can't tell. I don't know. We're very glad that he is healing. He's doing his best to get back to the members as quickly as possible.
It would be interesting to see if we find out exactly what happened. What if he fell off the bike?
I don't think he fell off the bike. I want to jokingly spread a little rumor. The other day I was taking one of his classes. It was a new class and it was for the Guide. It was a strength class and he was talking about how he went into this Starbucks and he ordered his coffee. He was waiting for it to be done and then this woman walked in. Apparently, she was the most beautiful woman he'd ever seen in his entire life. He was totally staring at her like legit staring at her.
She caught him and broke his arm?
His order got called and he didn't even hear it. He was so busy staring at her that he didn't even notice. The woman turns around and he totally got caught staring at her. You do have to wonder because the injury started not very long after that. Maybe she had a boyfriend or a very strong athletic girlfriend.
Maybe the barista got tired of waiting.
That could have been. There are so many things that could have happened there. Jokingly starting a rumor. I don't think the two are connected. Tunde's book is coming out on May 3rd. She's been talking about her tour. I just wanted to mention that she has a new stop on the tour. It was New York and LA. Now there's a third one in Tysons Galleria that she is going to. I believe it's the day of the actual drop. That's very cool for people there. There's also now a virtual event that she is doing where she will be book signing virtually and anybody in the country can join, anybody in the world can join.
Jess Sims was on Good Day New York.
They posted it over in the You Get To Crew. She was on the local Fox channel and she was showing off Peloton. She did a workout with them and definitely got their glazed donut look on. She did a good job representing Peloton.
What does that mean?
You don't know the glazed donut? That's a little sweaty. That's you're warmup sweaty. She jokes about that. She also loves donuts so it's a whole thing. Speaking of Jess Sims, she ran the Boston Marathon. People had no idea she was running until she showed up and did it and it got posted on social media. I had a lot of people reach out to me and they were honestly upset that Jess Sims did not share her journey. I felt that it was because of the fear. Jess Sims had never run more than 8 miles in her entire life. Also, people were a little, I don't know the right word to use.
They felt a certain type of way about her being in the marathon at all.
Because it's so difficult to get into the Boston Marathon.
They felt like someone handed it to her. There was obviously a larger backstory that maybe people didn't know at the time.
A lot of people have been like, "Why isn't she talking about it? Why hasn't she?" She did a recap and she answered a lot of those questions. She answered why did she keep it a secret. She answered how it came to be in the first place. I thought that she did a very good job answering those questions. For example, the reason that she kept it a secret was that she wanted to keep the why in the focus. It was for her and Michelle. Michelle was a victim of the bombing that occurred there at the Boston Marathon years ago.
She was there and Michelle is the one that gave her bib to Jess. She offered that up to her because she wanted to thank Jess for inspiring her and helping her with her recovery over the years. Jess has all these wonderful things going for her but she wanted to do something that was outside of her comfort zone. It's something that she was working with a life coach on. She wants to do something outside of her comfort zone. This opportunity popped into her inbox on December 13th and it seemed clear that this is what she should do. I'm not trying to tell her a story for her. You should go and listen to this Instagram live. It is saved out there on her profile. She's going to do another part of it.
It's cool to hear how all of the instructors supported her. She mentioned that she immediately told Becs Gentry and she gave her a whole bunch of ideas for how to do her training. She talked about how Matt Wilpers supported her and Kirsten. As soon as Kirsten heard it, she was like, "I am going with you that day. I will be there. I will do all of the things." She had a class to teach. She literally got on a flight from Boston to go back to New York to teach that night. That's crazy. That's friendship. That is what the community is about. It's very cool.
A website called WeAreMitu. It's a Spanish website I believe. It features Camila Ramon talking about how to silence their inner Tía Tóxica.
Which I heard is Aunt Toxic. I have no idea if I'm good at my Spanish because I know about this much.
It could mean that but I think it's also a lady's name.
It could also be their inner toxic voice. I don't know what the slang for that is. Regardless, it is awesome to see some of our newer instructors get recognition, especially those that aren't teaching English classes all the time. It's very cool that we're seeing more and more of this. It's also great advice about how to give yourself a little grace when it comes to your body image. Check out the article because it's well-written.
Cody Rigsby was at the NAB show.
Any idea what that is?
I believe it's the National Association of Broadcasters. Cody was there talking about content coming to life. This might be their end of dealing with the digital streaming world as opposed to traditional broadcasting.
I think we actually talked that he was going to be there a couple of weeks ago. He was there and he posted some pictures on his Instagram. If you have any interest in that and you didn't get to go locally, then you can see a little bit of the behind the scenes highlights if you would like.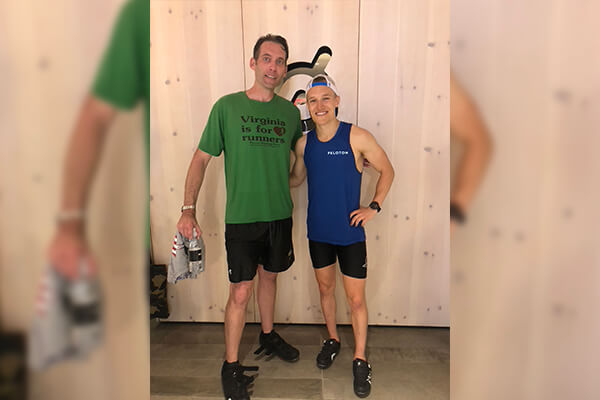 Hannah Corbin sat down with TheSpruce.com to talk about her secret skill.
I posted this and people are very critical of design. Anyway, I'm not going to linger on that. I thought this was cool because I noticed that she has been designing. She's been working on her cabin in the Catskills. She's been pretty public about that, but she has not shown a lot of her house. I did not know they were two different places, first of all. She has a townhome in the New York area, then she has a cabin that she bought with her husband a while back. I want to say it was two years ago in the Catskills. They have been working on remodeling that.
This article focuses more on her townhome and it shows some of the amazing artwork. She talks about how they are two totally different styles, that she's happy about that, and that she loves that. Also, people have brought up about a million times that in the article, there is a talk of a painting of a butt. It's 7 feet tall or something like that. Unfortunately, it's not in the article and lots of people wish that it were because they're curious how that could even manifest itself on a wall and work in that space. There are a lot of questions about that.
Maybe it's in the bathroom. There was once a radio station and there were autographed items everywhere. In the bathroom were all the bands they didn't like.
That's interesting. Did that change from time to time?
I didn't work there very long so I don't know.
Congrats to Hannah Corbin. I thought it was pretty cool. I like seeing the inside lives of the instructors.
Mariana Fernandez went to Puerto Rico to film some new scenic content.
It's now up so you're able to go see it. I had a bunch of people from the Pelo Latinos page and groups send this to me. Thank you guys for sending this to me and making sure I saw it. Don't worry. I am not going to miss this opportunity to highlight her amazing work. She did a scenic run and a scenic ride. That's pretty cool because there are no other runs with her on the platform, and being able to see the behind the scenes that she posted on Instagram of going to Puerto Rico, seeing people that she knew, doing all of that, plus the actual filming behind the scenes. If you haven't gotten to check that out, I highly recommend you do and take the scenic classes. That's lots of fun.
Marcel Dinkins was part of the USO Women's Empowerment Summit Panel.
That took place on April 26th. If you did not get to check it out, there is some info about that on her Instagram. I also find it interesting that Alex Toussaint was doing something with the USO as well. That's interesting. I wonder if there's some kind of partnership.
Maybe a larger partnership behind the scenes that hasn't been announced as a thing, but there's a relationship there now.
I think that's pretty cool. Either way, congrats to Marcel.
We have an instructor celebrating her first Peloton anniversary.
Kirra Michel. She is our Australian yoga instructor. I took a class with her and it was her Pop Punk Yoga class, which I was not sure how it would go. I actually enjoyed it. Lots of good tunes. I did not think that they could do some of the songs that worked out there. I can't think of any names of anything. I suck at that but it was a good class and congrats to Kirra. That is really cool.
—
Joining us once again is Angelo for MetPro to answer all of your nutrition questions.
Thanks for having me back.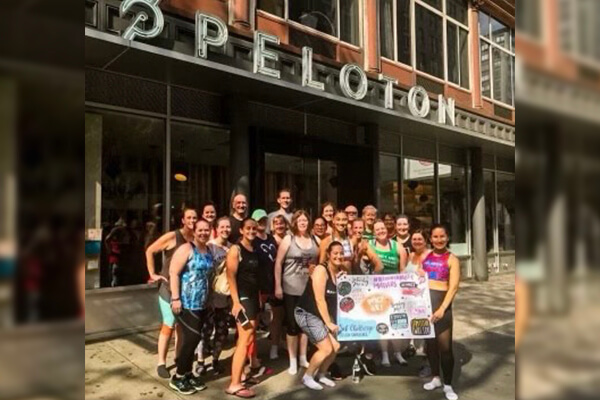 No problem. This is a tricky one because we've got two individuals both struggling with a similar issue. Shirley Augustine, her struggle is that all three people in her family eat different things and it drives her nuts. Rebecca Ulip, her husband does not care about being healthy, eating clean, and counting macros. He's basically a Tom and it's just the two of them, but he does most of the cooking because she works long hours. It's almost impossible for Rebecca to be consistent and it's hard to do it alone.
That is a great question. I love how you, Crystal, were able to ask it and throw Tom under the bus at the same time.
I'm very talented.
She's a multi-tasker.
Unfortunately for Shirley and everyone asking that question, the reality is Tom is correct. I've been doing this thing for years.
Thank you for joining us. I think that's all we need for the segment. I don't know if we ever need to have you back on the show again. You cannot top that.
The truth is that when you have people with different eating habits, you can ask nicely, you can ask aggressively, you can beg, and you can plead. At the end of the day, any changes they make and it's not from within, experiences taught me that it will be temporary. You have to do this for yourself. I've had a number of conversations where I had a client and his spouse or her spouse decided to jump on board with them to support them. That's always a great thing. That does work well because there's unity and goal and alignment. It is a huge boon to success.
That being said, I always have the conversation about how your spouse, your family or someone else in your household does a consistent meal plan cannot be the deciding factor for you. What will happen is that it's going to build resentment. You will fall off your diet. I know this because everyone falls off their diet. How was your spouse going to feel if they follow a meal plan just to support you? They follow it for weeks or months just to support you, then you fall off the meal plan. It doesn't go well.
There's the practical side. When you're in a household with people, oftentimes it's not a big deal to have an overarching theme and say, "I'm trying to do this. I'm going to follow this whole meal plan and diet. I don't expect you to eat everything with me. By the way, Rocky Road is my favorite ice cream. Could we not bring that in the house?" That's a very reasonable conversation to have. Most people are willing to make some compromises for their friends, family and people they care about.
Those sorts of things, that's good. Have those conversations. Have the conversations of, "I know you're not doing this but I appreciate you supporting me because this is important to me. I'm doing this for my health," or another reason or whatever the case may be. "It's important to me. Hopefully, it will be important to people who are close to me."
With that said, at the end of the day, it has to be something you're doing for yourself and it can't be dependent on others. It can still be practical. We have lots of moms that cook also for kids and say, "My kid is eating this and I'm trying to eat that," and vice versa. The husband is doing this and it's a different deal.
The nice thing from a practical aspect that we tell people is we teach them to cook by macro. Instead of following a specific, "Here's a recipe I'm eating and it's different." Everybody needs a different recipe. Just cook in bulk macros. Maybe you're cooking some protein for dinner, whether it's plant-based o meat protein. You're doing some grilled chicken, some fish, some veggie burgers or whatever it is. You've got your protein for the dinner.
Now you're going to do a carb but you're going to do starch. Maybe you're doing some rice or some potatoes or whatever it could be. You're going to cook some veggies or you're going to make a salad or something along those lines. That's easy to compartmentalize and say, "I'm going to do the protein and the veggies, and have only this carb or I'm not having a carb," or whatever the case may be.
The family wants to have pizza also or wants to have this, that or the other. The protein and veggies are still good. Maybe they will want to indulge in the same carbohydrate you're having. You can make it modular. You can mix and match so you don't have to cook in a completely different meal, but rather swap out certain bulk macros that have a scale of economy that works well for families that want to have different things.
If you learn to cook in bulk macro, that's one of the first things we teach our clients. It will not only save you time, but it makes the diet modular in a way that you can mix and match with family members who aren't eating the exact same things. There will be some spillover where you can eat some similar items from the list.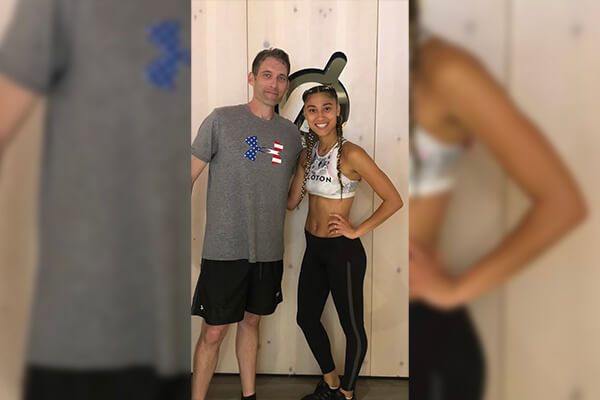 I love that. That's a good way to do it.
Thank you so much for joining us. If people want nutritional advice tailored to their lifestyles, where can they find you?
Thank you.
—
There is now a Peloton Women of Rock class.
The classes count toward the Rock 22 challenge so you can absolutely take those. I know that one of the two-for-one classes was with Susie Chan and Joslyn Thompson Rule. They did a two-for-one and it looked like it was an outdoor run, which I don't know that has ever occurred before. That might be a first. At any rate, check out the Spotify Women of Rock playlist in all the different classes.
—
Finally, we have one birthday and it is Chelsea Jackson Roberts who celebrates her birthday on April 30th.
If you need some time to center yourself, Tom, she is an excellent choice. She's very soothing. Happy birthday to Dr. Chelsea.
—
Joining us is David J. Miller, PhD. He is the author of the book, Sweating Together: How Peloton Built a Billion Dollar Venture and Created Community in a Digital World. Hi, Dave.
How are you guys doing? It's great to be here.
It's so good to have you here. This has been quite a road.
You've been working on this for a while.
I have been. Like Peloton, there were some bumps in the road along the way, some delays and changes. Finally, here we are.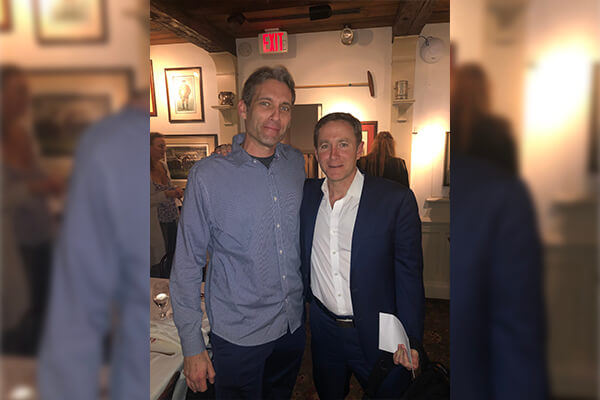 Do you feel comfortable sharing how long the journey has been?
It's a little over five years since I realized this topic was real, right around when you were starting the podcast. It was 2017 when I was like, "Something is happening," and it's still going. People are already questioning, "Is it time for part two?"
I'm going to go ahead and say yes, it is.
It's been a few years of tracking this amazing and ongoing store.
You had good access to the company while you were writing this.
I did. It was a different era back. We had major changes, but back then they wanted to talk to the media. They did want their story to be told. In 2016 was when we got the Bike. In 2017, all three of us were getting into this. People did not believe in them. They thought it was a joke. The crazy Bike with an iPad. That was it. There are still those people out there. They wanted to tell the story and invite me in once they realized I was trying to tell their story because of the uniqueness of adventure.
You got to interview instructors, John, and other executives at the company.
I interviewed Tom Cortese who was a unique guy. You guys have talked to him. It's a great part of the story. I've also interviewed some people who are no longer there. Probably the most important were members, to be honest. It's great to interview the talented people who came up with the big idea and the vision, and executed this beautiful business model. The members are a big part of the story. The subtitle talks about building community in the digital world. That access probably would not be granted to me or anybody. They are very wary of anybody with a pencil or laptop.
Now they would sell the rights to Penguin and it would be a glossy coffee table book.
Monetizing anything seems to be the state of play for Peloton.
It is different. As you've gone through this whole process, are there moments that stand out? Is there one that stands out above all that you want to share?
Back in 2017 or 2016, when my wife bought this Bike, I wanted nothing to do with it. I've never done indoor cycling. I didn't do boutique fitness. I didn't feel like I was that person. If I stood up, you would see that I'm tall and awkward. I want to stand up because I'm wearing my gifted pants. I am one of the few who got these parachute pants but they call them track pants as part of my 15,000-minute gift.
In 2016 or 2017, my wife bought it. I wanted nothing to do with it. Eventually, I tried it because I got sick of the treadmill in the winter. That's where I was blown away. That's where I'm still blown away day to day. I don't care what the stock price says, the writers at this paper or that outlet have to say. People are happy when they engage with Peloton. That is the first thing I noticed in early 2017. I went to this Facebook page and people were talking about magic pads, which you all reference in your bumper music still. People don't talk about that anymore.
No, because so many of the OGs don't go to the OPP anymore.
It's this idea that anything having to do with Peloton is magic and people with disco lights, then I found your podcast. To me, that's still the important thing. Just like it said in the IPO, they are selling happiness, health, well-being, and all these things that are still in very short supply in modern-day life. I would still say that initial, "Why are people flying to New York when the whole point is to workout at home?" That never made sense until you understand it and you end up doing it and going to visit New York. To me, that is the early impetus. I do check social media every day to see if people are still deliriously happy or giving their testimonials like it's snake oil.
We were fortunate enough to read an early copy of the book. It's good for anybody out there who's wondering, "Is this worth the read?"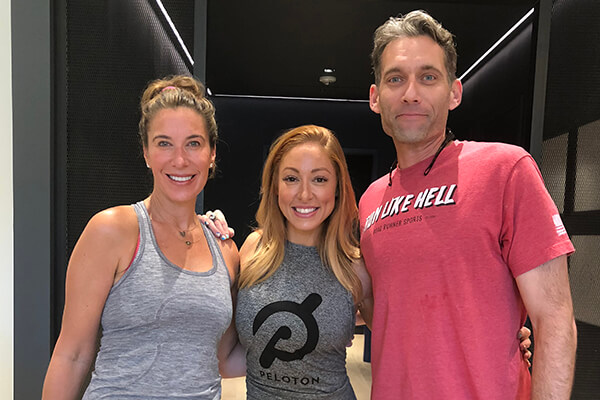 Especially if you are relatively new to the world of Peloton and you're wondering how it got to the critical mass or the vortex that sucked you in, here's the backstory.
You did a good job of capturing that excitement and the whole story that's there. For people who have been around for a while, I would say they're going to enjoy it as much. It is with nostalgia that I read about those exciting times, people are getting together and at the studio, especially after we've been through this stupid pandemic that will not end. Being able to go back and read about those magic moments is like you're right there again. It's wonderful.
Thank you. I tried to capture it. That's the weird thing about how the story evolved. When I first noticed it, it was more like an academic. I was like, "What are these weird and strange people, and spending money and time?" Within a year, I was sucked into it.
You went native.
I did. I went Jane Goodall. That was my analogy where I went from looking at them to grooming the chimps. I was in the middle of it up in New York.
You taught John Foley sign language.
I did. I learned this from listening to John. I was like, "Wow." It was that transition. That played out in the book where I laid out the business model and then ate it up myself. I was getting nervous when I realized there was a message from Denis Morton on my Instagram account. I was feeling my heart rate like, "What is wrong with me?"
I hope your next book isn't on the opioid crisis.
Someone just wrote that book.
There have been a few of those.
I got caught up in it where it went from "Here are the parts of the business model" to "Here's how I fell into the business model."
What do you do for a living? How did you even end up writing this book?
At the time, I was a professor and an academic. I always wrote on what I thought were more tangible topics. A lot of my research was on student founders, Facebook, Under Armour and Google. I like looking at the world and trying to make sense of it. The minute I saw these things going on at the OPP and all that, I thought, "This is from an entrepreneurship perspective. It's interesting." I was lucky that's my job and I like to make it fun.
They did something interesting as we all know. It's a little controversial now but they merged with traditional business models from fitness. You either join a health club or you buy a piece of equipment, and they put them together. That was early when my wife said, "I bought this thing." I'm like, "How much was it? You got to pay monthly? They are smart."
I don't like these people. They disrupted my home with a morning argument over money before I had coffee, but I also respected them. That's what I do for a living. It is trying to understand how people create value and then get paid for it. That's where Peloton is now. They've created all this value and they haven't quite figured out how to get paid for it. That's the tricky part of the business model.
I'm paying plenty. I don't know what you're talking about.
That's the funny thing, I'm wearing this sweatshirt I just bought. I was traveling and went to showrooms wherever I was. I got this great Scottsdale sweatshirt with these logos on it of all the cities and then this Arizona one is highlighted. I'm like, "You do apparel. You make a boatload of money." My wife wanted one and we bought my sister one. There's $210 on sweatshirts. That's a lot of months of membership.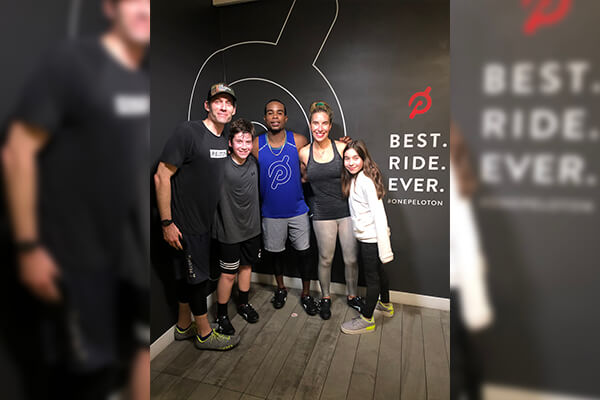 How has it been waiting for this book to be ready to go out to the public while simultaneously watching the entire thing you wrote about change again?
It's fascinating that it's hard even with initially the timeline for those who are newer to the company or don't track it like the three of us do.
Not everybody is obsessive.
That's what I say to people, "Do you know who this person is?" They say, "That instructor Corey?" I said, "Wow." I've heard, "My favorite instructor is Corey." I thought, "What?" That's quite interesting. For us who have tracked it, the target was the IPO in 2019. I knew it was going to go public even before it was a unicorn and this. We saw it and so we thought, "Let's do the IPO." I thought, "Let's see the IPO and how they do."
COVID then hit and it became, "Whoa." COVID even impacted the logistics of the publishing industry where you couldn't get paper. There was a backlog because of all the previous years' books which were delayed. As we were in the queue, which normally was supposed to be four weeks between delivering and the print, it turned up to be twelve weeks. John Foley then stepped down or was removed. I called the publisher. I said, "Do we put an appendix in there or what?" They said, "You can but then you go to the back of the line." May 24th would have become whatever later into the summer. The fortunate thing which we joked about in the intro is my title is okay. It doesn't say the name of the founder. It doesn't say $100 billion.
You can even recycle it for your next book. You could be like Fast and Furious: Sweating Together.
We dodged a few things to your point. As the news played out, there is a chapter called Bumps in the Road, I think it's chapter 7 or 8, where we all could see some stress for lack of a better word. I put them in buckets. The biggest bucket which I knew was going to be a problem is what I call hubris, where they thought they could do anything and would react to anything, "We can do strength. We can build a factory. We can buy a factory, whatever your heart's desire."
I knew that I had gone through the internet rush, which interestingly, a lot of their leadership had as well. If you look at their history, they had done the internet rush as well. I came of age in that era. That was my first startup as it was for John Foley. He went from Mars to the internet in the mid-'90s just like I did. That has made me very trigger shy on capital, spending and revenues. It's hard when the world is throwing billions of dollars at you and saying, "Spend it."
It's never going to stop.
Hopefully, both the principles of the challenges they ran to are there, and more broadly why it works so well from the customer and consumer perspective. If the company can straighten out their end of it, it will be a long-lived business.
Peloton as a company is not going anywhere. They are in good hands for a long time. It is just going to look very different from the company I fell in love with.
I'm not a financial analyst. I've watched it but it's the acquisition game. I've always watched companies that when they get cheap enough, you can't help but think someone is going to buy them. We're in that territory. I don't know where we're going to be in a month. The only thing that concerns me is that at some point, someone does scoop them up because the shareholders eventually can't handle it. I don't know where it is now but I've been ahead the whole time until recently.
I doubt you're ahead now. It dropped to $21.
I'll say this. I'm still ahead.
You must have got in on those two seconds where it was down at $17.
It was one of those stocks. It came poorly out of the gate and then got hit. I bought it when it got hit. The truth is I didn't buy that much because my whole future was wrapped up in the book and I thought diversification.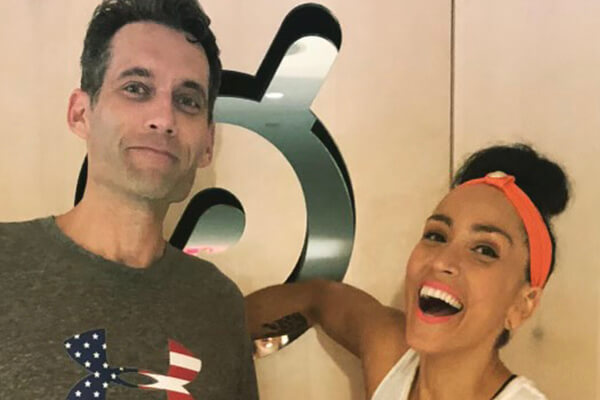 That is smart. I would have been concerned.
Buy the book, not the stock.
It's a jump ball as to which is going to be cheaper.
What are you going to get more value from in the next six months? I would argue that it may be the book.
Can you go un-native? How does that work?
I'm a consumer. I love it. I got off the ride that I thought I might see Crystal on the Jenn Sherman ride.
I got to work still. From a writing perspective, has it been driving you crazy to watch these things play out and you're like, "I need to add this. I want to tell everything here?"
Yes and no because I'm old enough that it's easy in anything to get caught up in the day-to-day, the news of anything, the news cycle. That's the way the world is set up. I knew, you knew, and we all knew Peloton was this shiny thing years ago and people can't take their eyes off it. I get it that every day even in The New York Times article, Breaking Up With Peloton, it is clickbait.
It has been written a million times.
It's not a story. They even have the caveat at the bottom, "All Peloton members still love it," or something like that after talking about the three people who have decided that they are going to go to the gym also. Peloton is a valuable name that's going to sell media all day plus the stock market, which is going to pump it. I try and step back and look at the bigger trends as opposed to the day-to-day. There are bigger trends that I thought I was confident that it has changed.
For example, I thought they were always going to be a premium provider of hardware. They messaged that. They have a better strategy. They then got very reactive, got into price wars, and started lowering prices. In my mind, it went from this boom Tread+ thing where nobody has anything like this to cheaper bike, lower price tread, weights they are pushing, shoes, and now the Guide at $250, just a little add on. That's the big trend that I see.
Even though it's day-to-day, they went from this premium and expensive entry point and aspirational. I would still argue it was still affordable because you could buy it on time. You could do all kinds of things. You could use a firm but it was still premium like an iPhone. iPhone is $2,000 but everyone has got one somehow.
They didn't do that. Those are the harder things that are going to take some time. I'm not even sure what the CEO is up to. I'll refer to him as Barry. I don't have a nickname. It's hard to make sense of because I can't make sense of it. It's a new thing almost every day, a new experiment, and a new pricing model. That's almost more frustrating that we're at this in-between where it's like, "Who is Peloton?" I can't figure out who they are.
That's exactly how I feel. Going back to the book, where can people find the book? How do they purchase it? Tell us about that.
The book is at all major booksellers. In addition, you can find it at my personal website, DavidJMillerPhD.com, where there will be a special code, TheClipOut. That will get you 20% off of the MSRP of the hardcover. That was an interesting thing when the publisher put it in these massive systems that all the major retailers look through and decide which books they want. Because of the beauty of the internet, everyone could put it on their website. It was funny when I saw it on Target and I thought, "I've got a book on Target.com and Walmart." You can find it almost anywhere.
How many books do you need to sell to get on the bestseller list? We want to support you.
It's funny. I don't even know that answer but I did learn this a little bit. The bestsellers aren't really the best sellers. I don't know how it works in the movie business and music. They want to get more of a representative so they will look at it regionally. That's one thing. People can go into their local book shops if some of them still exist, in independent bookstores and ask them to get it. It's still about 4 or 5 weeks out and they can put orders in.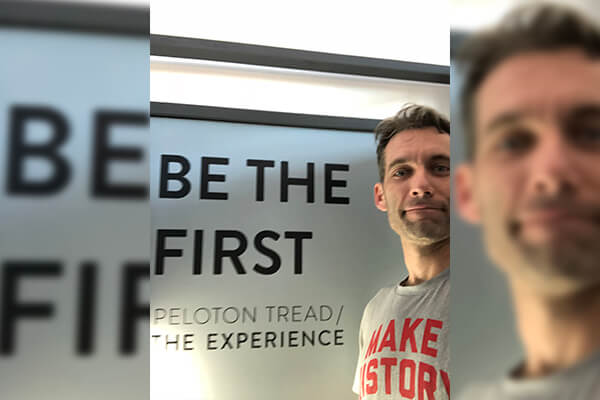 Online, they have some weird combinations where they try and distribute geographically. They look at independence. They also want to make sure they are not all business books or pop culture books. I've learned that there is a little bit of a game to it. I try to avoid that because I believe the Peloton community will keep supporting it as opposed to writing a book on a super hot topic. Like a movie release or anything, you have a week to get it done. If you don't hit that right curve, then there's a problem. I would rush out and get it now though.
We should probably also remind people before we let you go of your leaderboard name. It's right on the front cover of the book but they are probably not looking at it.
It is Chicago Born. We're on the Tread. I'm on the Bike. I'm on the Mat. I become a yogi through Peloton. I'm a little weak on the weights. I heard John talking about it and I agree with him. It is very shaming to look at that little blue body. I realized it's not even going to work because most of the lower-body classes are longer. Even then, it's going to be imbalanced. It's like, "I'm not going to do a 45." Maybe you're doing it on Tonal and some of those things. To me, 45 minutes of strength sounds like a long time.
It is. I did it before we started this. I was like, "Can we cancel?"
I'm lucky to get 10s and 20s, the 15-minute flashes and things. I do have to figure out if I can hide that body or you're just shaming me.
The little guy front and back is mocking you.
From interviewing so many people over the years, I'm in a real live class trend. I can't stop and it's strange. I'm still feeling the effects of COVID that I want to know that there are people out there.
I totally get that. I've given up on it. I'm working with my schedule.
Thank you very much for joining us and including us in your book. That was very exciting.
We are honored. Thank you.
Thank you guys for leading the way and being open and aggressive with your reporting over the years. I will tell this story, so we'll go over it. I apologize. I was up in New York interviewing either an instructor or one of the senior level. I'm on the gold bus or the business class bus from New York to DC, which I was taking back and forth quite often.
My Instagram message came through and it was Clip Out Crystal. She says, "Are you writing a book on Peloton?" I knew who you guys were but I'm like, "Wait a second. What?" That's when I realized, "They've got people inside the building." I just walked out of there and it's like someone was watching me with binoculars, "He's on the bus. You can message him now. He's off the property."
She's good. Imagine what it's like to be married to that. I have to be on my game.
This has been fun. It has been cool seeing this come to life and watching your journey from afar. Thank you for letting us be a small part of sharing that with people. It is cool.
Congrats that it's finally getting released into the wild.
Thank you so much. Talk to you guys soon.
—
I guess that brings this episode to a close, what pray tell do you have in store for people next episode?
We are going to be speaking with Jillian Curwin and I'm very excited. This has been a long time coming.
It's a little bit different interview. She's a little person and she talks about how she and her community interact with Peloton. It's very fascinating.
She's a fascinating cool lady.
Until then, where can they find you?
People can find me on Facebook at Facebook.com/crystaldokeefe. They can find me on Instagram, Twitter and the Peloton leaderboard @ClipOutCrystal.
You can find me on Twitter @RogerQBert or Facebook at Facebook.com/tomokeefe. You can find the show online at Facebook.com/TheClipOut. While you're there, like the page and join the group. Don't forget our newsletter that you can sign up for at theclipout.com. That's it for this one. Thanks for tuning in. Until next time, keep pedaling and running.
Important Links
About David J. Miller, Phd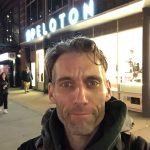 David has spent the last two decades working, researching, writing and teaching on the topics of innovation, entrepreneurship, creativity, well-being, business models and impact. He is a leading thinker on new venture creation, entrepreneurial and innovation frameworks and ecosystems, innovation and the well-being economy and the application of innovation management tools and frameworks
Academically, David has been a faculty member at George Mason's School of Business for over 10 years and spent 2017-2022 leading the Center for Innovation and Entrepreneurship. He is the founder and principal of Moose Mountain Ventures, Inc. an advisory services firm helping new and existing ventures, investors, and other institutions develop innovative and impactful business models, understand the rise of the well-being economy, and create positive value for stakeholders. David is a regular social media and media contributor.
David had never taken an indoor cycling class before begrudgingly trying his wife's Peloton bike in late 2016. He has now completed more than 5,000 classes on the Peloton platform and enjoys cycling, yoga, running, meditation and strength classes. David can be found by his leaderboard name #ChicagoBorn.