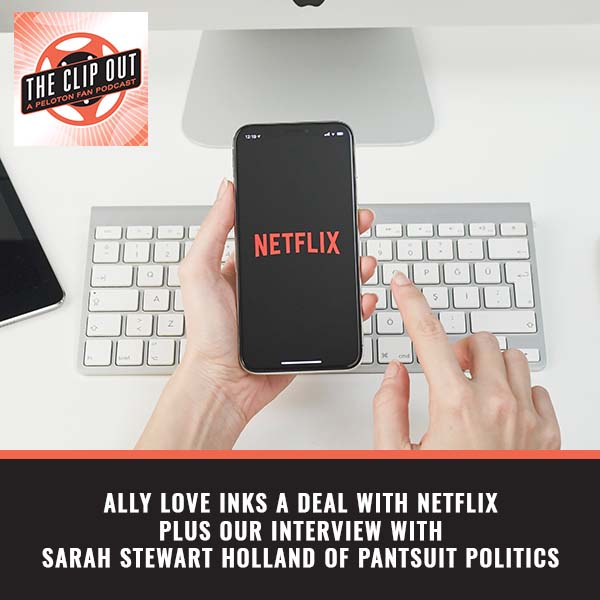 252: Ally Love Inks a Deal with Netflix plus our interview with Sarah Stewart Holland of Pantsuit Politics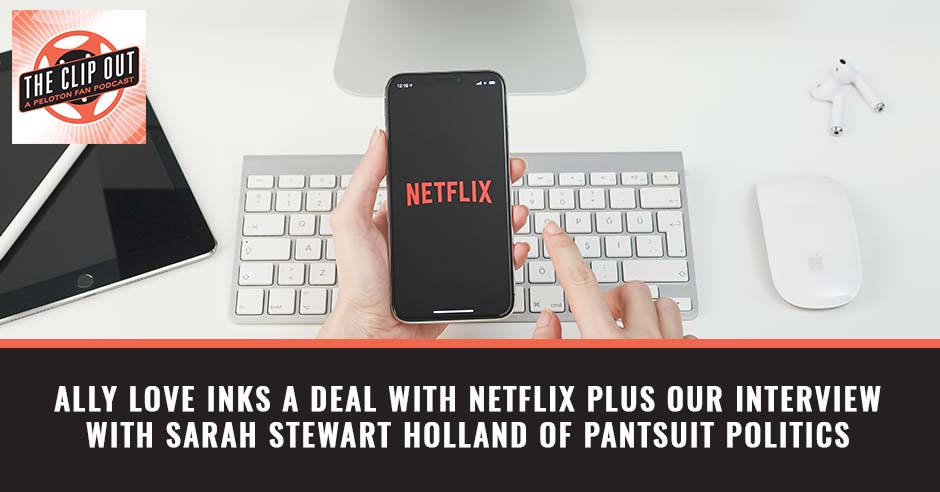 Ally Love signs a deal with Netflix.
Buzzfeed spotlights Ally Love.
People Magazine has exclusive Selena Samuela wedding photos.
Becs Gentry & Jermain Johnson are now also Shadow Boxing instructors.
Tunde graces the inaugural cover of She-Suite.
Cody Rigsby is featured in TV Technology.
Cody has a special IG message for the Grammar Police.
Alex Toussaint attends the Bilt Rewards launch party.
Olivia Amato partners with Brittany Allen.
Kirsten Ferguson has some fun with Jess Sims' Starbucks order.
John Mills joins us to discuss the latest in the iFit/Peloton legal battle.
NordicTrack CEO forced out.
Motley Fool asks if Lulu Lemon shouldn't have purchased Mirror.
Dr. Jenn – Dealing with post-Covid fatigue.
Precor is now officially Peloton Commercial.
Modern Trail writes about Peloton and the sudden value of Supply Chain experts.
Coach Magazine reviews Peloton's new heart rate monitor.
The Dipp wonders if Peloton should have ever been considered a "unicorn."
Angelo has tips for knowing when to switch to maintenance mode.
Jess Sims has new classes – Jock Jams.
Lanebreak adds new levels.
Camila Ramon celebrates Miami Music Week.
Peloton 4 Parkinson's is just around the corner.
Is Callie Gulickson's sister-in-law an Echelon coach?
Birthdays – Ally Love (4/6), Jennifer Jacobs (4/7)
All this plus our interview with Sarah Stewart Holland of Pantsuit Politics
—
Watch the episode here
Listen to the podcast here
Ally Love Inks a Deal with Netflix plus our interview with Sarah Stewart Holland of Pantsuit Politics
We are back from our big Beach Boys Cruise. We are back physically, but in our minds, we are still in Kokomo, which is a fictional place, which is where my mind spends most of its time. It was fun. I got to meet Micky Dolenz again. He sat next to us at the airport. I tried not to nerd out.
You handled yourself very well.
I was afraid as soon as he sat down. I was like, "Crap," because my laptop has a big Monkees logo on it.
I would like to point out, I'm the one who saw him. You didn't even know.
I was on my laptop and then I was like, "Look at that."
He didn't ask about the podcasts though.
Someone else did.
That's true. Sister Christine, how are you? I hope Carnegie Hall was a blast. It's so exciting.
Micky didn't get pestered by fans, but Crystal did.
There was no pestering. Don't say that.
We stayed in the worst hotel ever. It's not what Trip Advisor had led us to believe.
Who knew Ultra Music Festival is a thing. I thought it was about a billion years old.
We're staying 3 feet from it. You cross the street and you were at Will Call. The hotel charged an arm and a leg for that privilege, which we didn't care about. It was not a hotel that would normally get that sort of a rate. It was the kind of hotel where you have a 60% chance of waking up in a bathtub full of ice, missing both kidneys. The sheets had open sores. The lice had scabies. That's how bad this hotel was.
It was not that bad. It was not where we usually stay.
It's not our thing, but we had a good time. What pray tell do you have in store for people?
We're going to talk about Ally Love more. She's having a moment. We also are going to talk about where all the instructors are. We've got new content that hit Peloton. We have a funny video from Cody Rigsby. We have the instructors messing around while they were on vacation. We have a visit from Dr. Jenn and we are going to be talking about dealing with post-COVID fatigue. We also have a visit from Angelo and he is going to talk about the difference between how do you know when you switch from fat loss to maintenance mode, and then all kinds of other little details that have accumulated throughout the week.
Before we get to all that, shameless plugs, don't forget we're available on Apple Podcasts, Google Podcasts, Spotify, iHeart, TuneIn. Wherever you find a podcast, you can find us. While you're there, be sure and follow us so you never miss an episode. Maybe leave a review so people who come along after you will know that we're worth checking out. You can also find us on Facebook, Facebook.com/TheClipOut. While you're there, like the page, join the group, and find us on YouTube at YouTube.com/TheClipOut where you can watch these shows. Crystal will now wave at you. That was very exciting for the listeners. Finally, we have a newsletter that goes out weekly with all the links and things that we discuss so you don't have to go scrolling back through the group, trying to find something you might have missed. You can sign up for that at theclipout.com. There's all that. Let's dig in. Shall we?
Let's do it.
—
We talked about the fact that Ally Love was going to be gone for a bit.
It's 6 to 8 weeks. She is going to go to London, but not to teach Peloton classes while there.
She had some stuff banked and she was working on a dream project. Shortly after that episode came out, it was announced that she had signed a deal with Netflix for Dance 100.
She is going to be hosting the competition series. There you have it. I do believe, Tom, that you thought it would be hosting something like a Dancing With The Stars type of thing.
That was where my head went because I wasn't sure what else? Not that she's not capable of other things, but that seemed the most obvious choice to bring her in to do.
That's what it was.
If you're looking to do a dance show, they have already seen the effect that a Peloton instructor can have on a dance show. If you're Netflix, that is something that has already been tested.
I know we said it before, but just to reiterate, there will be classes dropping on demand. My understanding is she will be back at some point to also teach live classes in the 6 to 8 weeks that she's gone.
It's so odd to me that she's over there, but she'll come back to New York to teach. I don't know if she's going to be back in New York anyway.
I have no idea. I thought it was weird. There's literally a studio right there.
We know she's going to England. Do we know she's going to London?
It is London. It could also be that she's like, "I'm not going to be separated from my husband for eight weeks. No, thank you." She's coming home anyway. Who knows? I bet her rider is long.
That's pretty cool that she did a deal with Netflix. This is probably a good time to tell people that we signed a deal with the Peacock streaming service. We're very excited. We're locked in for six months, so we get it for $5 a month. We're very excited about the deal we signed.
It's totally the same. I wonder how many people are going, "What?"
"What's the peacock? Is he making a dick joke? I don't understand." While we're talking about Ally Love, we should probably mention that she was featured very prominently in BuzzFeed.
She's having a moment. The title of the episode was The Gospel of Peloton's Ally Love. I cannot stand the way this article starts though. It's so over the top.
She's no Michelle K. I'll tell you that.
It's just not my style. I'm sure this clicked with other people. It's like, "Ally Loves smile softly at the camera."
It's one of those like, "I'm writing it a news story but I'm writing it like a novel."
It goes on from there. It is interesting because it discusses a little bit of the back and forth that there has been between people who love these classes. It also touches on some of the people that don't love these classes. It doesn't resonate with them. It feels a little too churchy even though it's not religious. It's one of those where your mindset is when you hear it. At any rate, in general, there are a lot of people that take these classes. That's what the article is about, talking through that. If you don't know the history of how this started, you might want to go back and read it because I forget that not everyone knows the entire history of Peloton the way I do.
I have to say though, they did make a mistake in this article. Ally Love is not 1 of the 12 founding members of Peloton. They called her 1 of the 12 founder instructors. That's not accurate. There were, there were instructors that were no longer there. You could include her in the 12 before they hired a billion more, but she was not one of the original instructors. She's very early on. Don't get me wrong, but it's a pretty glaring error.
It's like how on M*A*S*H, Klinger doesn't actually come on until the third episode.
When you look back, you think Klinger was always there.
He wasn't. She's the Klinger of Peloton. I'm sure she doesn't listen to this. That's probably for the best. First off, she probably has to Google what that means like, "What are you talking about?"
It also talks about how she's a multi-hyphenate and how she got there, and how she found Peloton in the first place. You can hear the whole history of that in this article as well. It's a good read for those who don't know all the back story.
Selena Samuela got married.
There was a huge spread in People magazine, I guess this is what we do now.
Peloton is the Netflix of exercise.
Click To Tweet
Good for her. Take that money.
Take the money and enjoy it. She got married to Matt Virtue. There are subsequent articles if you want to read them like who is Matt virtue. They all are a paragraph along. Don't bother, if you asked me. There were tons of instructors that came to the wedding. Not everybody was able to because there were some instructors back in the New York and London studios who are still teaching. The wedding took place in Palm Beach. We might as well have been there, Tom. It was right up the road.
We would have if we had been invited. There's that.
If you want to see some hilarious pictures of us at the wedding, you head on over to The Clip Out group. In the meantime, they had a picture of all of the instructors that attended. That was my favorite. All of them were there. Chase Tucker came. Even though he is no longer a Peloton instructor, he was there as well. It was very nice. It was a very beautiful ceremony. They talked in the article all about the little details, the little touches, what was on the centerpieces, what she wore, who she wore, and the different gowns that she had., all of those types of things.
Her dress was stunning and it was all hand beaded. I can't even imagine how much that thing costs but it's beautiful. I know it was shocking. It was only a one-day wedding. People could post whenever. They didn't have to wait. It was very different from some of our other instructors that got married.
Suddenly, calling her Klinger is the second most offensive thing to her.
She doesn't listen. She'll never know. It's very different. You have different styles. You have people that like to go big. You have people that like to go small. At the same time, having said that, there was a huge turnout at Selena's wedding. I don't mean to indicate that it was a tiny wedding. Some of the other instructors, I saw Jess Sims and Kirsten Ferguson. They had been on vacation in The Bahamas. They were on Nassau. They were right there.
They left and went to Palm Beach to attend the wedding. There were lots of shenanigans that took place. If you didn't get to see it, you need to search it out because Daniel McKenna's post like his pre-roll before his class the next day after this wedding was epic. He came to class hungover and had no sleep, and taught a class. It was absolutely hilarious. That's two minutes of some wonderful comedy, if you did not get to see it. By all accounts, Selena had a wonderful wedding. Everything went perfectly. She looked beautiful. They were happy and all was well, so wedding, covered and checked.
We have new shadow boxing instructors.
People are ticked off because everyone has been assuming for months that Bradley Rose would be the next boxing instructor. He's got a boxing background. It's not that they don't want Becs and Jermaine. It was just an assumption that it was going to be Bradley Rose and Peloton said, "Surprise, we're going to do this instead." Nobody saw it coming that it was going to be Becs and Jermaine. I think it's great. I love that Peloton still got some surprises hidden under there. The interesting thing is for the Peloton boxing classes, you can find those under cardio. Later, we will be talking about more shadow boxing and it will be different. We have to talk about that.
We could talk about it right now because I had it next.
Here's the deal. Now there's boxing bootcamp. Six classes were dropped on demand. Selena and Rad were doing both of these different classes. These are found under strength, not under cardio. Now we have running bootcamps, bike bootcamps, hiking bootcamps, and boxing bootcamps. Lots of bootcamps and they're all found in different places. It's like a scavenger hunt.
I'm hearing these are great though. If you were wondering about the boxing bootcamps, I thought Gail Fine's rendition of a review was the best. She talked about how it's basic moves from the boxing standpoint. You might have 3 or 4 combinations, not a whole bunch. You then move into the strength and you do AMRAPs in between. If you're wondering what the layout of the workout is, that is what it is. At least on the 20-minute one. I checked out the 45-minute one with Rad and it was a lot. It was like round one, then there was a one-minute cooldown, round two and then there was a whole big, full-body, 8-minute workout. You then went back to boxing. That one looks like it's going to exhaust you, which is great whenever you want to bootcamp.
You should do like a Mike Tyson boxing class.
Mike Tyson is over at FightCamp throwing.
I was going to say, "They're only one round."
Sorry, he's already working with FightCamp.
Your earbuds are going to fall out though. Tunde is featured on the cover of a brand new digital magazine called The She-Suite.
She's featured on it, brand new. In the very first issue, she is the cover. Congrats to She-Suite for snagging Tunde. That's a big deal for them.
You always know something is going to be successful when their first guest is a Peloton instructor.
We got that going on way back in 2017 when we launched it, Matt Wilpers was our very first guest, if you don't know that history.
We're coming up on our fifth anniversary.
Can you believe it?
Give us a card. Cody Rigsby was featured on TVTechnology.com. I don't know if it's a magazine or just a website.
It's a website but the point is he is going to be at this trade show. I guess that trade show is all about technology. He will be discussing the "Work hard, play hard" philosophy at that trade show.
NAB, I think that's the National Association of Broadcasters, which is why it's spotlighted on TVTechnology.
That makes total sense.
While we're talking about Cody, he had an Instagram post that you would like to co-sign.
He did this and he was like, "You don't need to spend time telling me about my grammar mistakes. Did I misspell something? Did I leave out an a or an? I need Grammarly to do every email that I do. I don't know how to spell it. I didn't pay attention in language class. It's going to be spelled wrong and you don't need to waste your time messaging me or commenting that I forgot it." He's like, "I got it, babe."
Some people are bad at it and you're like, "Come on. Really?" If you create as much content as he does or you do, sometimes it's just a typo. Let it go.
I would like to collectively say, when a person spends all of their time doing that, then let's see how mistakes you make. I appreciate the people who say something very low key like, "Did you know that you did that? Okay, cool." They let it go, then there are the people that are like, "You're doing it wrong." I feel that, Cody.
There was a launch for something called Bilt Rewards.
I don't know what any of this means. It was Big Apple Night with Epic Bilt Rewards Launch. Apparently, it was to celebrate that they were launching that thing.
It's like starting up just to get attention, which worked. They got Wyclef Jean and a rapper I've never heard of because I'm 100 years old. The reason we're discussing this is because Alex Toussaint was there.
All kinds of different celebrities were there. I love that they've included Alex Toussaint in this article. I also saw over on Alex's Instagram several pictures of it. There were lots of people that he took pictures with from celebrities there. I thought it was interesting that they talked about how there are all these different programs and there are these points. They allow travel through all these major airlines, hotel partners and fitness classes including SoulCycle, Solidcore, Rumble and Y7. There's no mention of Peloton. Why were you there, Alex?
He stormed out in disgust.
I don't think so, judging by those pictures.
He took those pictures first, then he stormed out in disgust.
He's a classy guy.
Olivia Amato is working on a special bra for purchase with Brittany Allen.
No, let's change that.
Let someone who knows what they're talking about say it.
She's wearing a bra that Brittany Allen created, and a lot of the instructors do. This happens all the time, but the reason I wanted to mention it is because now you can get your very own Brittany Allen bra that has whatever you want on it. It's customized so you can get the different stones, different colors, different letters. I'm assuming not everyone would want "Olivia" on their bra, but maybe who knows. You can create it any way you want. I don't know how many of these Brittany Allen is going to be able to create because she hand-sells this stuff.
It is a big deal when you get one. I wanted to let people know because all the instructors are wearing them right now. If you want one and you want to have something on it, here is your chance. It went on sale by the time you hear this episode. You can go to Brittany Allen's website and buy your own.
She could be so overwhelmed that it will be too late.
Hopefully, you can still sneak one.
—
Joining us once again is John Mills. How's it going, John?
How is it going?
We'll jump right in. We'll start with another Peloton lawsuit update that we could have a whole show. There's nothing but those sometimes.
iFIT wanted to get Peloton documentation from Affirm. For anybody who does not know, Affirm is the third party that does all the financing for Peloton. They wanted to know Peloton's pricing strategy and that's why they were trying to get this information. The judge said, "Denied," and the subpoena was too late.
This reminds me of the same case when there was a suit that Peloton brought against iFIT because they had set their prices with a slash through them and said "On Sale" and it was actually the price.
They were pulling a Kohl's.
It's on sale but that's what the price always was. It was never on sale but it looked like it was on sale.
As soon as Peloton files a suit, then they changed the prices magically. This sounds like a reaction to something relative to that case when I was reading it. This isn't something recent. This is relative to that.
The judge denied it recently but that doesn't mean it was recently filed. This could have been forever ago. It's interesting because it does say that the subpoena was too late. It makes you wonder if this was some kind of Hail Mary thing from iFIT. They're just trying anything.
They were trying to look at Affirm stuff and say, "See, they were doing something similar too." I think it's related to that case from awhile back.
My question is why would they need to see their pricing structure? That's already out there. You know, what they charge for things.
What John was saying is they were trying to prove that Peloton was doing the same type of thing. Peloton has always been transparent. I'm not saying in relationship to necessarily what their costs are, but most companies don't so that's not unusual. John Foley got so much flack for saying that he raised prices. It's not like they haven't been pretty obvious about this.
I'm struggling to marry what they thought they were going to get out of the Affirm data or reasoning as to why they would ask for it. It does appear that it's related to that same deal. That was hilarious back then. They were like, "Our stuff is on sale but for the same price."
This whole situation is pretty hilarious because it's been going on for a very long time and nothing is getting resolved. Now John Foley has been replaced and now their guy has been replaced too. We've talked about that before. All of a sudden, it's making news again. I'm not sure if it is this whole thing like, "The CEO has been forced out."
When iFIT was being sued by Pamplona Capital Management months ago, they were like, "Give us our $200 million back." because they were buying some manufacturing company overseas and it broke something in the agreement. iFIT was like, "We don't have $200 million." I was waiting for the odds to implode on them. All of a sudden like out of the blue, we find out that went away and this other financial firm just gave iFIT $355 million. We didn't know why that went away or why this other firm would give them $355 million when they were about to go bankrupt. None of it matched. The first article explained all of that. That's the news here.
How does the Mormon thing fit into this?
The CEO is a Mormon. I guess they're saying that the belief system was bleeding into the company decisions in a less than positive manner.
When L Catterton came along and said, "We're going to give you that $355 million but the CEO has to go. Not only does he have to go, so do all these board members that are all a part of the Mormon church."
They're part of the church so basically, the church is in charge of the company and they were like, "We don't want that."
Watterson had four sons all in the C-Suite. His brother used to work for iFIT. It's like the Watterson family and the Mormon Church were running iFIT. When L Catterton came along, they said, "Pamplona Capital Management is about to shut you down. We're going to bail you out with $355 million. If we do that, he has to go and all these board members that are part of the Mormon Church have to go. We're going to be on the board now and we're going to name our own people. We run the place now."
It's not a family business anymore.
This is completely following the storyline of succession. I'm just saying, iFIT is succession.
This article finally explained the whole thing. All this stuff that has been going on for the last few months made no sense. The CEO stepped down. What's going to happen next. They're about to go bankrupt because Pamplona Capital Management is about to sue them. That went away. Why did that go away? None of it made sense.
One of his sons did step into the CEO role, right? I thought that's what they said. Maybe that's a temporary thing.
It was interesting when they thought Michael Phelps was going to be their magic bullet. They threw a bunch of money at him thinking that was going to sell a bunch of bikes for them.
It wasn't only Michael Phelps. They were competing so hard with Peloton. He was spending money hand over fist. Michael Phelps was one of those areas where they were spending money on. The thought was they were going to get their money back when the IPO happened, then in 2021, connected fitness started going like this and they couldn't go IPO. Now, they were in debt.
It was weird when they brought in Michael Phelps because he had been a very vocal fan of Peloton. All of a sudden, he's like, "How much money? Sure. This is a good bike."
We've talked about that then. We were like, "What?" It's interesting to see all of these pieces.
He was paid.
Do you think he actually rode the bike or do you think he was still riding the Peloton? He rode it one time.
This article finally explained all that stuff.
Everybody complains about the New York Post, but look at all we learned.
Now I know what was going on. It's a family business. It isn't anymore.
It says, "The Salt Lake Tribune pointed out that running the corporate board would appear to violate a longstanding church policy." That's interesting too because you were making both sides mad, but Stevenson got a special dispensation from church authorities resulting from his legacy shareholdings and rule as a cofounder of the corporation.
Did you read the part where the employees were told that they had to call Stevenson as Elder in the office because he's an Elder of the Mormon Church?
That's gross. That's one step away from a cult. I'm not saying Mormon is a cult.
I'm not saying that either but it's the whole process and the whole pattern.
That's a nomenclature that you use with others within that religion. It's not a title like Reverend. I don't have to be a member of your church to refer to someone as The Reverend Dr. Martin Luther King.
That's for there they're insiders. That's weird.
The company and the church is the part that sounds odd to me.
It's safe to say that they had a dysfunctional corporate culture happening.
Peloton removes all roadblocks. They've really hacked the whole gym experience.
Click To Tweet
This is a lengthy article and has a lot of juicy stuff in it, but I still feel like there's a lot more.
There almost has to be because it still doesn't address the lawsuit that went away. At the time that happened, we talked about the fact that we felt like it was a vendetta thing happening. They made somebody mad. Now, if it went away, I guess the vendetta could have gone away, but we still don't understand the history of that in this article. I agree that there is more happening here.
Maybe they took the money from L Catterton and paid Pamplona Capital Management. I don't know what happened. Another thing that's interesting is they are saying here that they had a valuation of $1 billion and now it's down to $1.5 billion.
It says $1.6 billion. It definitely dropped.
Moving on, The Motley Fool had an interesting article, Did Lululemon make a $500 million mistake?
I'm not a fan of The Motley Fool because they have so many different writers for it. Somebody else wrote a counter-article to this, I have no doubt. This is fascinating to me because when Lululemon bought the Mirror, I said at the time that I was not into it. I was like, "I don't know about this." It's interesting that it's not going as well as they thought it would. I had a feeling that this was coming because they've been cutting the prices and they've been pushing the Mirror hard. They are trying to sell it so much.
Where they're at and what they're doing is tough, but I'm still not convinced that this is accurate because of the fact that they talk about how they had forecasted for the year some $250 million in revenue, and now they cut that in half. That's the basis that this isn't going all that well. When we were talking about Lululemon doing $2 billion in sales a quarter, this is like telling me, "I owe you $0.50. I don't know if it matters.
I don't think it matters to Lululemon. I don't think it's going to hurt Lululemon, but the more interesting part of it is it's probably not going to hurt Lululemon but will Mirror survive? Will they keep pouring money into it? Will they sell it? Will they just kill it? What will happen there? The reason I find that so fascinating is because how many Mirror knockoffs are there at this point? There are so many, so what happens to all of them?
I agree with that possibility. I think The Motley Fool is jumping the gun on getting to the concern of that possibility. It's too early. They just released Smart Weights a few months ago. They're just starting to use the Mirror and train their Lululemon associates with trying to sell the Mirror along with the gear. It's early to come to that conclusion. That might be but it's too early to start saying that.
It is worth pointing out that it is like an indicator. I don't know that we can say either way. I hear what you're saying. I cannot say, "This is horrible. Mirror is going to hell," but I do find it very interesting that when Mirror first got bought, everyone was saying across the board that this is going to be amazing for Lululemon. They are going to sell all of their apparel. It's going to be so great, and it's clearly not. I'm not saying it can't get there but right now, it's clearly not.
It was a good idea but they bought the wrong product. I still don't understand the appeal of the Mirror. It still hangs your TV sideways and jumps around in front of it. It doesn't have the same interactive appeal as a Tonal or a Peloton. What they were going for is, "We sell you all this fitness. Let us sell you the equipment too." They were going down the right path, but they bought the wrong thing to do it with.
I remember them trying to sell this whole angle of, "We got this. We're going to sell our apparel on this thing." They were all hyped up about that, their path and their strategy toward that. I didn't buy into it back then either because I wouldn't see the appeal of the Mirror either. Similar to what you're saying, Tom, that's how I felt. I was like, "Really? Who wants a Mirror?"
I think there's a niche audience.
The space has changed a little bit since then. Now it's a little different in that people are becoming a little more accepting of doing some of these disciplines outside of having some hardened equipment. The fact that they added some Smart Weights, I think that the Mirror has a little bit more validity than it used to have. I don't know how much, but it had a little bit more validity. I'm actually a little more positive about it than I used to be, just a little. I feel like it's a little better than it was when they first purchased it.
It will be interesting to see what the next one brings and how much of this is where we are in the connected fitness space. How much of that revenue guidance is just that. It has nothing to do with any of the things we're talking about. It's just connected fitness isn't selling as well right now.
We know that's happening anyway. That's a very good point. What's happening to them is probably to be expected.
When we were at Lululemon a couple of months ago, they had a Mirror up in the showroom. What I was surprised about was the showroom got a shout-out and they were yelling about it. They were so excited. I was like, "What the hell is happening on this leaderboard? You guys are freaking excited about a shout-out for your showroom? Do you never get shout-outs? Is this new? I was so confused.
Shouldn't you be shouting out the people that actually bought one?
I did think that was an interesting little exchange because they were legit excited. They were yelling back and forth across the store. I was freaked out except I was like, "Oh my God."
Do you remember that day I went to that reseller and I sat on that Echelon rower and took a picture, and then we were all cracking up? There was a Mirror in that place too. I wasn't impressed with that thing at all. It looked cheesier than I was thinking in my mind.
I always forget that it's not a touch screen. You got to use your phone to control it, and you can only do that on Apple products. You can't even use it with an Android.
I didn't even know that. That's news to me. It was not like I was going to get one.
Are you going to retract your statement about feeling a little bit better about them?
I feel like you've gone the other direction.
It didn't impress me so I'm backing up now.
John, thank you very much for joining us. Until next time, where can people find you?
They can find me on my Facebook page or group, Run, Lift and Live. They can find me on Instagram @RunLiftAndLive. They can find me on TikTok, Run, Lift and Live, or they can find me at RunLiftAndLive.com.
Thank you.
—
Joining us once again is Dr. Jenn Mann, licensed marriage, family and child therapist, and Sports Psychology consultant. She was also a five-year national team member in rhythmic gymnastics and Sports Psychologist for USA gymnastics. It's Dr. Jenn.
Hello.
We have another question for you. This one is coming from Erica Dunn Meyer. She is struggling with post-COVID fatigue. She cannot wake up in the morning as she used to and she has no energy at night, which was never the case before.
Are we post COVID?
It's post for her.
She actually had it. I thought she meant as a concept, she was tired of it.
I was actually going to clarify that as well. It sounds like she had COVID and she's now recovering. It sounds like she may have some long haul of COVID where she has continued fatigue. Number one, she needs to see her doctor. She needs to see what can be done to help her recover quickly. She needs to see what medications or breathing exercises or anything that might be available to her. It's addressing the physical.
There's also the psychological aspect. It sounds like she is someone who is a Peloton person who probably had reached a certain level of fitness before she was hit with COVID. Now that she has to prepare herself mentally to rebuild sometimes from scratch. From the people who I have spoken with who have had COVID and had to rebuild, and who had long-term COVID or long-haul COVID and are struggling like that, it can be very discouraging.
It's making sure that she has a plan that is very slow, gentle and approved by her doctor, and that she doesn't let her previous level of fitness and where she is now to discourage her too much. This is going to be a painful journey, but one that is doable for most people that I know who have been through this. Again, she also has got to consult with her doctor.
That's got to be frustrating. I know there are a lot of people struggling with this.
I remember reading in 2020 an interesting article that came out. I think it was a runner's magazine. It is one of those running journals or magazines that talked about when runners get COVID, they were seeing a lot of even worse cases. I don't know if it was the breathing. I don't know exactly what it was. There's still so much that we don't know, but it's particularly challenging when someone who is used to being able to run marathons and being able to do incredible cardiovascular feats is struggling to walk to the bathroom or stand and make a meal in the kitchen without losing their breath. Not only looking at it from a physical standpoint, but also emotionally preparing yourself for that rehab is very important.
Especially when you run like that, it's part of your identity. When that's taken from you, for some people, it's like when they lose their job. They've always seen themselves as, "I'm a pharmacist," or whatever, and now they're not anymore. They're like, "What am I?"
There was an Instagram post in 2020 through a running magazine where runners talked about their experiences having COVID. I remember a few people who talked about doing triathlons and marathons who are now struggling to walk from one room in their house to the other without losing their breath. It's got to be so incredibly painful and discouraging. Preparing yourself mentally for that rehab is as important as preparing yourself physically.
There was also this narrative that if you get it bad, it's because of you. You have a health issue. When you're "doing things right," and they get it bad, that has to be a blow to their self-esteem for some people.
Especially for people who have been cautious and have been careful and have altered their lives, or maybe they altered their lives dramatically for a year or a year and a half, and then started to relax and then got it. For the people I've seen in that situation, it can be very discouraging. It can be very frustrating to feel like, "I worked so hard to avoid this for so long and it got me."
My son is 17 and he got COVID right after the first of the year. He had a very mild case. He's been vaxxed and boosted. He was doing that. He was very mad at himself as if he had failed. He wears a KN95 mask when he goes to school and has been doing all the things, and then to compound problems from his own psyche standpoint, he ended up being the only person in the house that got it. None of the rest of us got it.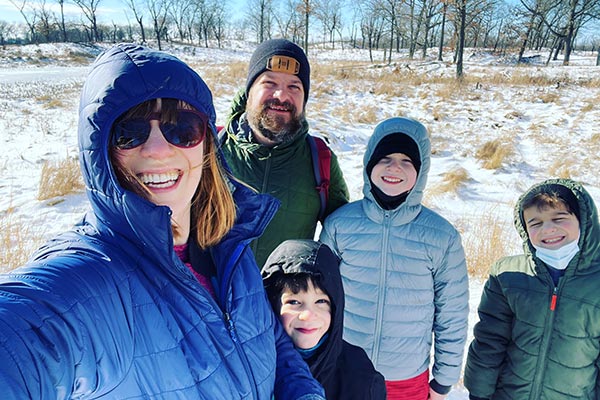 That can also be whatever vaccine you got because we have three different vaccines in this household. That could have been that too. As you said at the beginning, there's so much we don't know. It's hard to know.
Thank you so much for all of that. Until next time, where can people find you?
You can find me on social media @DrJennMann. I post all of my Peloton workouts on my Insta Stories.
—
This probably isn't the most shocking news in the world, but Precor is no longer called Precor. They are now Peloton Commercial.
What is also interesting about this is that it's on LinkedIn. It's weird. You're not seeing this being pushed out on social media. I don't get it.
I don't think it's that weird because it's very businessy. It's B2B. It doesn't necessarily need to be on the Gram. You care because you're Clip Out Crystal.
That's fair, but there have been a lot of things lately that are only showing up on LinkedIn.
I have noticed that.
I find that in general strange. It's interesting that move has been made. What does this mean? Are you guys going to start being transparent about what the hell you're doing at Precor?
I still think for Precor, in the long run, it will be a good move for them. They always said that they would sell bikes when they had them in hotels and stuff. If they can start getting more and more hotels to flip the Peloton, that's a selling point for hotels. You'll see that more over the next 3 or 4 years. More hotels are wanting to freshen up and be able to say, "We've got Peloton and you can log in and do exactly what you've been doing at home." That's where Peloton is going to be able to take strides over the competition.
I hope that we get to see the transparency. Are we talking it's going to be Precor hardware with Peloton software? Is it going to be Precor and it's going to have a Peloton logo on it? Is it going to be a Peloton bike and it's going to have Precor Commercial? I want to know what the strategy is here and they have been very cagey. I don't think they know. That's why.
It's probably a weird place to be because there's already so much Precor product out there that you can't just be like, "You all have to buy new bikes now." They're probably trying to figure out a way to convince a lot of these hotels and apartment complexes to buy like, "It's time to upgrade so get yourself a Peloton."
It will be interesting to see where it goes.
ModernRetail.co is talking about the hottest job in retail, supply chain specialists.
That is a hot topic right there.
The other day, one of the kids was like, "When I grew up, I want to be a supply chain specialist."
I know it's boring. I get it, but it is important. I feel like it's especially important right now because of all of the issues with the supply chain. It is the hottest job right now but Peloton got a mention here because first of all, that is what we do. Second of all, they're talking about how to become a supply chain specialist, and Peloton is the place to do it. I thought it was funny. There are lots of different mentions here. It talked about how Andrew Rendich joined Peloton as a Chief Supply Chain Officer in March. They talked about that and what he's going to be seeing. That's where they went into what a supply chain specialist does. It's not interesting, but the fact that even at this level, they are using Peloton as an example, and that's after Peloton has had a rough year. I find that part fascinating.
It's a good tutorial. You hear supply chain thrown around a lot lately. If you are like, "What does that even mean? What all goes into that?" It's a good place to get a primer. CoachMag.co.uk has a review of the Peloton heart rate band. They weren't big fans.
They said it had limited connectivity, which I thought was interesting because it's not limited connectivity. You put it on and it connects to the Peloton equipment. I don't understand what their issue was. Are they saying limited connectivity like it won't connect to other products outside of Peloton? I see here that they're saying that it's not as accurate as a chest strap. Nothing is, a chest strap is a gold standard. I don't know what they are exactly saying here but they're not fans. They gave it a three-star. If you're looking for an all-around, simple and easy to use, I still think you can't go wrong. If you have something else that you're wearing like an Apple Watch or you do use a chest strap, I wouldn't switch. They don't do that.
TheDipp.com had an interesting article. Is Peloton a unicorn or a horse with a birthmark?
I thought it was interesting. It's a little discussion really but if you want to read some interesting, posts like some interesting commentary, here's a good place for it. It's not technically a unicorn right now because it's not valued there anymore, but I don't think that Peloton is done. It's premature to say so.
—
Joining us once again here to answer all of your fitness and nutrition questions, it's Angelo from MetPro.
Thanks for having me back.
We have a fun question for you. This one comes from Kristin O'Neill and I know a lot of people can relate to this. She says that she knows it's a personal decision, but she's curious about what goes into the decision to stop the quest for fat loss and switch to maintenance. What factors are taken into consideration when making that decision and how does nutrition for fat loss and maintenance differ from each other? Is it how many calories are eaten in a day?
That's a great question, Kristin. I'm going to be able to give you a fairly definitive answer. I'm going to bet it's probably not the one you've you've heard the most often. As you said, it's a personal decision when to conclude an overarching quest of moving from weight loss into weight maintenance. That is going to be different for each person. What I would like to comment on is more in a given push. When is it time to take a break from weight loss and move to a maintenance cycle? In other words, maybe your total weight loss journey has not ended but this push has.
The reason that I'm surfacing that angle is because I see that scenario a lot as a source of confusion. We can actually address that head-on. The answer is when you stop losing weight. When you can't lose weight anymore, stop trying to lose weight and switch to the performance cycle. You referenced it as a maintenance cycle. I'm not going to refer to it as maintenance. I'm going to refer to it as a performance cycle. This is part of what I teach.
When I'm doing my advanced classes with either personal trainers or fitness professionals, or even people in the medical industry that are wanting to learn the nuance behind metabolism, I take them through a calculated priority hierarchy trait. We have client A, who's this body type with this goal and that's eating this food. Their primary concern is they want to lose weight. We're on a journey to lose weight, but here's the reality. A lot of people are going to relate to this. They've lost some of that weight but not all of that weight. What are the next steps?
In our priority tree and hierarchy, what we're going to be evaluating is our levers. If you stop losing weight, here are our levers. We have exercise, broad strokes. We have exercise and we have your nutrition. Now getting a little more granular, it's how we divide your exercise. Our two biggest levers with your nutrition are going to be total calories and how those calories are split among your macronutrient ratios.
Without getting into it too much, we can turn the dial to become more aggressive in both departments, either department or both. Eventually, you're going to reach a point where despite tuning the dial to be as aggressive as you personally can be, you're going to reach a plateau. That is an absolute. It's not that your body is stubborn and different. Everybody reaches a plateau. Your body may reach it sooner than others but if you didn't plateau, you would die. That's the body recreating homeostasis to stop you from continuing to lose weight.
Once you have exhausted all of your options as far as caloric restriction and macronutrient, manipulation and exercise, when you have reached a point where you are not assessing or seeing further weight loss, it is simply time to now switch goals, even if it's temporary, to focus on enhancing, speeding, revving and improving your metabolic performance by process of elimination. That's the only option left. Picking the right time to do that, that's where the art and the science come together.
That's what we do at MetPro. We help determine when somebody has more highways in front of them to push for weight loss. When we need to push on the brakes, rev their metabolism. Even someone that's not utilizing those technical tools can say, "I can't eat less than I am now. I haven't lost weight in a month." You know when that has taken place. That's a good indication that it's time to switch directions. It doesn't mean you can't circle back to push for weight loss later.
Don't fall for the temptation of pushing harder. It's that little voice in the back of your head that says, "This isn't sustainable." Don't lie to yourself by saying, "I'm not hungry." You will be. You're going to get there. You're going to get stressed. We all have that voice like, "I could eat even less than hardly eat for a few days." If you fast forward a month, it didn't happen. It's not real. If you get the flu and don't eat for two days, you might lose five more pounds, but it never stays as gone.
The only time that weight loss is real is when you hit that number while eating something sustainable. You're still eating a normal and sustainable amount of food. Don't go to gimmicks, fad diets or extremes that never play out well. That's what we're around for. If you need a hand or you want some help, reach out to us. Even if it's just to talk, you can absolutely do that. We can share more specifics as we get to know a little bit about your body.
Where the tension lies is in determining. If you still have leverage and you feel good and you can push for some more weight loss. Stay on the journey. If you don't know how much weight to lose, how do you feel? If you feel great, you have energy, your body feels good, and you feel good about the skin you're in, then you're at a great weight. Nobody can answer that except you. Don't let anyone else answer that except you.
I had a guy who says, "Here's what I want to look like." He's an ectomorphic body type. He showed me a picture of a very endomorphic body type. I said, "You're never going to look like that. You're going to look fabulous. You can put on muscle. You can have a great physique, but here's what yours is going to look more like."
Always aim for within the realm of reasonableness, your genetic capability. Decide when it's time to switch to a performance cycle, spend some time in a performance cycle, a few weeks later or even a few months later say, "I'm going to now push for weight loss again if that is something you're still wanting at that point and you'll have the leverage to do so." It's all about metabolic leverage. Hopefully, that helped a little bit, Kristin.
Thank you so much for that. If people would like detailed, customized, leveraged advice, where can they find you?
They can go to MetPro.co/tco.
—
If you want to harken back to the '90s in the era of Jock Jams, Jess Sims got you covered.
There are three new classes. There's going to be the mat, the tread, and the bike bootcamp. If you want to get your Jock Jams on, go find Jess Sims and see it over there on schedule and enjoy. I don't even know what a Jock Jam is. What does that even consider?
There used to be a series of CDs like Now That's What I Call Music. It was Jock Jams and it had lists of songs that you would either hear them play over the PA at sporting events. It was songs that you play to get pumped up.
I got you. Thank you. I had no idea what it was.
Stop trying to find your passion. Just build skills.
Click To Tweet
I can't believe I had to explain a sports thing.
I'm showing my age. I'm a million years old.
There are new levels added to Lanebreak. DJ John Michael informed us.
There were six new ones added in the last couple of weeks. These were interesting, spinning records, volumes 1, 2 and 3. There were 5-minute, 15-minute and 20-minute. If you haven't gotten to check those out, I highly recommend you do. If you haven't checked out Lanebreak, you need to. They are so fun. People are sleeping on these. That's an overused term, by the way. That's a new thing. Even the kids are intrigued by these. Not enough to actually get on the bike and try them, but they did stare at them when I was taking them.
Kids love to watch other people play video games.
I know. I should start my own Twitch channel.
We talked earlier in the episode about how we accidentally stumbled into the Ultra Music event in Miami, then here we have it on the Peloton.
They had Miami Music Week. It's Ultra Music ride, that Camila put together with DJ John Michael. It was an EDM ride with Camila Ramon. If you were dying to get your Ultra Music Fest on, they had you covered.
She partnered up with Ultra Records.
It was interesting because we looked at the lineup and the DJs are from years ago and they're still playing.
I thought these kids are in their EDM, and then they were rattling off the DJs. I'm like, "I've heard of these people. I hate this kind of music."
I know who DJ Keoki is. These dudes have been around a long time. That's interesting.
They're so old. They were deejaying with 45s. We should probably take this time to remind people about Peloton for Parkinson's.
April 30th is the big Peloton for Parkinson's day. If you haven't signed up, go out to the website and you do that because it is a great opportunity to give to a wonderful organization, and it's run by Peloton people. You can't get better than that.
Other users, not the company. The Peloton people, that's what I'm saying.
That's a good call-out. I meant it's part of the Peloton family.
Finally, for this segment, we had a listener point out something interesting.
Callie Gullickson is somehow related to another Gullickson who also is an Echelon instructor. I had two people bring this up to me. One said they thought it was her sister. Another said they thought it was a sister-in-law. I don't know. At any rate, she's an Echelon instructor. We can't help but wonder how that goes over at holiday meals. That seems a little awkward. Maybe it's all good.
Is one of them infiltrating the other? Are they double agents?
Isn't that an interesting period? It's fun.
—
We have two birthdays. The first is Ally Love who celebrates her birthday on April 6th, and then the following day is Jennifer Jacobs, April 7th.
For all you new folks out there who are like, "Who the heck is Jennifer Jacobs?" She used to be an instructor, so you can go wish her a happy birthday as well. Make sure you reach out to Ally and Jennifer and tell them both happy birthday.
—
Joining us is Sarah Stewart Holland. You might know her as the co-host of the political podcast, Pantsuit Politics, and co-author of I Think You're Wrong (But I'm Listening): A Guide to Grace-Filled Political Conversations. Sarah, how is it going?
It is good. Thank you so much for having me. I have been looking forward to this interview since I heard about it. Our managing director was like, "You are never going to believe this. A Peloton podcast wants to have you on for an interview." I was like, "I'm in. I do not even know anything else."
I am going to start off with a Peloton question. When did you first become aware of Peloton, and when did you get your Peloton?
I am pretty in the zeitgeists. The second it became a thing, they had the stores at the airports, and they had the super fancy commercials, I knew about it, but I rolled my eyes. I am old enough to know the narrative of exercise equipment that sits in your house and have participated in that several times. We had a rowing machine, and an old-school 1950s exercise bike at one time. I do not think we have ever had a treadmill because we never lived in a place big enough for a treadmill.
Did you ever have that machine with the belt that vibrates?
I am not that old but I am like, "I am so sure. It is just a fancy exercise bike. What is the big deal?" The pandemic kit and everybody were a little more interested in the Peloton. I remember vividly reading the New York Times described it as the Netflix of exercise. I thought, "Please tell me more about that. That sounds fascinating."
No one can Peloton and chill like yoga.
There are restorative Peloton yoga classes. I do one once a week that you can Peloton chill. I was intrigued. I had some friends that had gotten one and loved it. My contractor, the Elton to my Murphy Brown, is here a lot and I adore him. He was raving about it. He is like, "I love it," and this is not a man who lives in the zeitgeists, let me put it that way.
I thought, "If he is converted, then there must be something here." He is like, "I love it. I do it every day." I was like, "Okay." I began my long and ultimately successful campaign to lobby my husband that we needed one. It was successful from the start. I was going to do it no matter what, but I thought it'd be nice to warm him up to the idea of it.
Basically, you gave him the perception that he did not have a choice.
It is like, "Head's up. I am going to get a Peloton." It is the same classic argument. He is like, "It is going to become a clothes hanger and we won't do it," but he now exercises more regularly than he has in his entire life and that was also true for me.
Does he use it too?
We both use it.
Did he have to escrow or was it not enough of a battle with himself?
He is used to it. I am always right. He did not want to move back to my hometown. I was worried about that. We had a marriage counselor one time say, "You clearly steer the ship." I was like, "I would not go anywhere otherwise." My husband is a lovely man, but he does not have a lot of momentum. I provide the momentum in the relationship.
When we lived in Washington DC, I always joke like, "We are going to the White House tonight with the Obamas, Beyoncé, and Jay-Z." Five minutes before we leave, he would be like, "I want to stay at home. Can we just stay at home?" "No. I am going to ride with Beyoncé." Once he is there, he is lovely, social, and fun, but he needs a good hard shove.
Speaking of trying something new, are you all bike classes? You obviously know about yoga, but what other class types are you taking?
I do all of them. I am a hardcore believer in stacks and streaks. I try to exercise every single day because I find the more decision points I can eliminate, the more successful I am at doing it. If I have to wake up every day and think, "Am I going to Peloton?" That is not good for me because I will find a way for the answer to be like, "I will do it tomorrow." If I have to wake up and think when in the day am I going to Peloton? My Friday is my day off and this is the weakest point in my week because I do not wake up and do it first thing in the morning like I do every other day.
Sometimes at 10:00, I will be like, "I got to go to an evening yoga class. I get up. Do not break the streak." I usually build a stack on Sunday. I love the stacks as well. I do a bike ride, a strength class, then a bike ride. It is usually a bike bootcamp, a yoga class, and then a bike ride. If it falls on a Friday, I will do a longer one and then a restorative yoga class or maybe another strength class. I alternate and try to do a restorative class sometime on the weekends.
You do a stack and then you work from that stack all week long?
Yes, all week.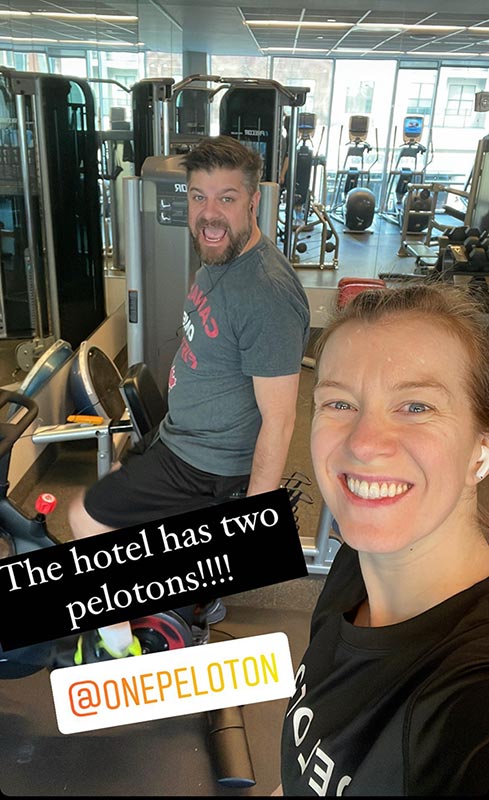 That is a different way to use the stack.
Most people do it like a bike ride and are awake. I schedule my week. You could do the classes that way, too, because you can schedule your own classes. That is how I do group rides with my listeners because we will do group rides together with the Pantsuit Politics community. I could do that, but I do not want to pick the exact time in the day. What I do is I sit on Sundays, maybe during the slower parts of my church service, and then I will go bike, strength-bike, yoga-bike, strength-bike, and restorative.
You do not hear a lot of use of the stack that way.
I love that I have innovated a new stack. Put it on my Wikipedia page. I am an Episcopal now, but I used to be a Baptist, and the evangelical part of our personality is with me forever. I am really evangelical about the Peloton. I am like, "Everybody has to have it." I like to coach people when they get it. If that convinced them to get it, then they get it. I am checking their profile, making sure they are using it because I do not want them to become a weak point. I do not want to introduce somebody who is going to be like, "I do not ever use it."
You know you do not get kicked out if they do not use it.
I know that is true, but I will carry it around. I will know my secret shame that I brought somebody into it and do not actually use it. I feel like they have hacked the gym experience. You do not have to go somewhere. You still get the social aspect. You do not have to shower somewhere else. In particular, I am a long-time yogi. When I got into yoga in my hometown, I had the most amazing teacher. What happened is she moved to New York.
You will get into something and it worked well at the gym and they will change the schedule and you can't go or the teacher will move. That is what I love about Peloton. There are none of those weak points where you will fall off because what you are enjoying or loving is no longer available to you. That is the strongest part of the whole universe.
I feel like it removes all roadblocks.
I would think most gyms have 1 or 2 instructors that are really good and then there is everybody else, so if you lose that 1 or 2, you are like, "Now what?"
It is like cable versus Netflix. You have to catch the show if there is one or Netflix and endless options. I think they are good though at helping you because you could very easily be overwhelmed. They do a good job better than Netflix, I would argue of channeling your interests and helping you not get decision fatigue where it becomes so overwhelming. They do a good job of that.
Maybe Peloton should do that, choose anything button that Netflix has started using.
That would be crazy. I never pick that one. Do you pick that button on Netflix?
I am not brave enough to do that. I can't pick that button on Netflix.
I have got enough chaos in my life. I am not trying to pick and choose anything.
I think it might work on Peloton. I could do it on Peloton.
What if it gives you a yoga class when you want to bike?
I thought about it and I was like, "The world is not all there is. I have got all day long."
It is hard to let go of that control. When did you start the Pantsuit Politics Podcast?
We started the podcast in November of 2015. She worked full-time as an attorney. I worked side hustle as a blogger and social media consultant. We both had brand new babies. Our youngest children are very close in age and we thought it would be a fun experiment. My husband had been harassing me to start a podcast. He was right.
It was good timing, which is a lot of what online success is. We started and then the presidential campaign happened. I decided to run for office myself. I very quickly gained an audience, and by 2018, my co-host had quit her full-time job and it was rapidly becoming our full-time gig, especially by the time we wrote our first book.
That has to be scary. Was there a moment when you knew it was time? Did you have to take a leap? Was it like, "This is getting in the way of my job, so this must be the choice?"
She had more of that journey than I did because I did not have a full-time job. This is very embarrassing to admit at 40, but I have worked at a true office 9:00 to 5:00 job for about thirteen months of my entire life.
I would not be embarrassed. I would be proud of that.
I realized that like, "This is the dream," but I am not overworking the four-hour workweek. A lot of the time, I was a stay-at-home mom. I was in law school forever. Once we moved back to Paducah, I had plans to go in and be a real lawyer. It never worked out because of my children, the bar, and everything. She had more of the structure that she had to think like, "This is not working anymore," whereas I had run for office myself and become a City Commissioner, which was super flexible. I taught at a community college that was pretty flexible, and then I was doing social media consulting.
It was harder for me to see that because everything was so flexible. It was harder for me to realize, "I need to let that side stuff go. I do not need that anymore." Not only do I not need it, but it is also distracting. It was hard for me to see the other side of the coin and see this as a full-time thing and realize, "This is a full-time job. I do not need to be side hustling anymore," especially because being a podcaster, it is hard to explain to people. People do not get it. "What do you mean it is your job? What do you do all day?" I do not podcast all day long. It is a lot of prep work. I do not just talk.
Writing the book helps and I feel like it makes it feel more legitimate to us and other people. When I look back on it, it was our audience as much as anything else that was like pushing us and being like, "This is valuable. Dedicate your time for it." It also financially supporting us. We receive an enormous amount of support from Patreon. They saw the vision sooner than we could. It was amazing. We are eternally grateful to them for that.
Is it funny if you are a professional podcaster and you tell somebody what you do? They look at you like somebody showed a dog a card trick. If you said you were an author, they wouldn't be like, "When did you write your last book?"
It is still a complex portfolio of work on how we pay our bills. It is advertising, Patreon, public speaking, and writing. It is multiple revenue streams. We always talked to college campuses. That is one of our favorite places to go speak. It is so fun when I am sitting there talking to juniors or seniors and they are getting all this advice about picking their career, and I am like, "I am a full-time podcaster."
Clearly, that was not a major I could have even pursued in 1999. They are like, "Oh." You can see it wash across the crowd. Every option available to me in my entire life is not available to me right now. It is a hard lesson to learn. There is so much pressure because college costs so much to pick. It is really unfortunate.
There are so many weird career avenues that you can go down but you need to be prepared to pivot because there are job options, especially at that age. You do not even know it exists yet. Not only might it not exist at all, but you just are not aware of them.
I have stolen this from Cal Newport, "Do not try to find your passion, just build skills." When I look back on my career path, there was always a political true point. I worked for Congress and in campaigns, but I was learning things that I use every day. I was networking, riding, using my analytical skills, and learning social media promotion through a lot of my work. It is getting better at all those things until you can apply them in a situation that feels purpose-driven for you is the key.
That is good advice because we have two teenagers in the house. They are both stressed about the whole situation and we are always like, "You do not have to have it all figured out. You certainly did not."
Sometimes it is better off not having to figure it out. If you got locked in and laser-focused and then you miss other things that you might like better.
You have a Peloton show and, clearly, you did not have a Peloton when they were born.
Politics are very difficult to discuss, so how do you keep the conversation not to getting out of hand or keep it civil?
We tell people that we do not prioritize the conversation. We prioritize the relationship. We put way too much pressure on conversations. Beth always tells people, "You do not have to leave the Thanksgiving table with draft legislation. No one is asking for that." What is important to remember is that what we are trying to do is be curious, learn about each other and ourselves, and have an opportunity to talk about deep and important things that matter to us, but we have to fix each other and agree with one another 100%.
We have to find the hot take that encompasses all the hot takes. It does not have to be like that. That is not necessary. No one is saying, "Sit down and work it out with someone who is threatening your identity or does not respect your basic humanity," because that is our central purpose here. We are all human beings, we all belong, and we all deserve basic human dignity.
The rest often is up for debate. What we try to do at Pantsuit Politics is practice that with each other. Oftentimes, what we do is we are processing the news together. We are not trying to convince one another. We are not debating policy specifics. We are saying, "This hard thing that happened. My community was hit by tornadoes. This is difficult. This is what I saw and felt. Should we care about Ukraine? Why should we care about Ukraine? What do we know about Ukraine? What is built back there and why is it controversial?"
We are trying to process instead of reacting because a lot of the media environment is a reaction and what we try to do is be curious, empathetic, and respond instead of reacting. We do not want people to leave our podcasts more anxious. That is always the goal. So often, the social media people were like, "How do you do this?" I am like, "I am not just reading anxiety-producing news all day. I am spending hours a week talking about it with someone whose perspective has very much value and being able to get the fears and anxieties in my own head about all this stuff in the news out." It is really helpful.
It sounds like it is cathartic for you.
It is just processing. Processing is helpful. You do not have to fix it. Being able to process it is helpful. I wish that back in 2016, in particular, I had the Peloton because it is a very central part of processing. It is weird. You will be on there and they will say something a certain way, and then all of a sudden, I am crying. I am like, "Why am I crying? I am not upset about anything. I do not even feel particularly stressed," but Robin will turn the phrase and I am like, "You are right. Change only comes through hard work." When we first got it, my husband was like, "They have got to have scriptwriters because they will turn a phrase," and you are like, "There is no way you thought of that on a bike."
When talking about politics, don't prioritize the conversation; prioritize the relationship.
Click To Tweet
They do write everything ahead of time. Everything is scripted.
You could not fill the time. Cody seems to go on a tangent, though that is not scripted.
Especially the instructors that have been around for a while, it was not always scripted to the degree it is now, but now they write down everything ahead of time. That way, they know to the second when things are going to happen. They do that not because it is not truly what they believe or what they think.
It is to be able to have fun things happen in the middle of class. Whenever Robin announced her pregnancy, everybody knew that was going to happen because it was written into the script, and that is how her husband could come out and give her flowers. All of those things can't happen if they do not have the script ahead of time.
The weird thing was when they wrote the conception into the script. That is a bridge too far.
I love the way they turned phrases and I love the way they lean into all their individual programming, the Sundays With Love, the Club Live DJ, and stuff with DJ John Michael. It is so hard to do. I have done a couple of rides where I am trying to video camera it with some of my listeners who are riding along, and that is so impossibly hard. I also do not know how they do it.
I could feel an eternity if that is there with me. I could fill all the time you needed me to fill. For twelve hours, we could do it. We went to a speaking gig in Wisconsin and Beth tested positive for COVID the first day we got there. I was like, "I hope you can patch her in because I can't do this 45 minutes by myself." Every once in a while, I will do that in my hometown. I will like to go to a local civics club and speak. I hate talking by myself. Doing that and exercising, keeping up with the leaderboard, and keeping up where you are in class, God's speed to all of them.
They are very masterful multitaskers.
That is why you had me on the show.
It is. Whenever I started the show, I knew the things, but I couldn't randomly talk about the things. I need some direction.
It gives you some structure. Somebody to bounce off of. I bet they love doing those 2 for 1 rides, so they get to do them together. This is far left to the field, but I watched The Eyes of Tammy Faye documentary after I watched the movie. They talked about how she would fill an hour of live TV by herself. I thought, "I will never let anybody disrespect Tammy Faye in front of me again." That is hard to do. They did not have a script or anything because they were filling hours and hours of programming every day on that cable channel. She would do it and be funny and warm. I am like, "Do not be criticizing Tammy Faye in front of me anymore."
I saw the movie, but I have not seen the doc.
They are both good. I watched the movie, then I watched the documentary. I read this book called Jesus and John Wayne, which is all about evangelical culture. I am also watching Righteous Gemstones. It is the best show ever.
It is like the Sopranos but funny.
I also like Judy Gemstone, who is my absolute favorite character on that show. She is a blessing because I had finished Jesus and John Wayne, which is about masculinity and evangelical culture. Watching her as a woman, step all over like these ideas about Christian womanhood, and follow her wherever it leads her. It is such a beautiful thing to behold. It is so healing in a very weird way. Edi Patterson, the actress, commented and was like, "What a tribute. Thank you so much." I was like, "Oh my God," I walked around my house and like, "Judy Gemstone and our friends." She is so good.
Talking about the instructors, I know that you have not had your Peloton for a super long time, but before the pandemic started, they had all these people in the class and so they could bounce off of the people in a class.
I have only watched a couple where they had people in the class, and I thought I did not like it as much.
I hate when new people say that. I understand it.
I feel like I have a lot of myself.
I get that. I hope that when it goes back that people at home will be able to appreciate it, but there is a different energy when people are in the room because part of what makes Peloton so fun is the community. I will use John Mills as an example because he is on our show all the time. I did not use to know him in person. I would see his funny comments and funny videos. I would see them in the studio and it would be like, "I saw you on the bike, John. That was great how you got your shout out." You start these real relationships with the people and it changes the energy.
You will recognize somebody behind them. Also, I want to go to a class. I was in New York City over December. One of the studios was right around the corner from our hotel. I was like, "I wish it was open. I would have gone to a class. That would have been the coolest."
It is the coolest like the best. They have homecoming every year. I do not know if you know about this.
I did. I participated in the online one.
They used to do it in person. Before COVID, it was hard to get the tickets, but you would get the tickets. The last time we went, there were 3,000 people there. It was insane.
The first time we went, it was like a cocktail party. The instructors were mingling around. Now, that is the Peloton equivalent of like, "I saw Nirvana at a club."
I have a good one. I saw Adele at the 930 Club in DC. If you know it, it is tiny.
It fits 1,200 people or something.
She only had one hour. I will never forget that people were kept begging for her to sing. She was like, "I have in one album. These are all my songs," before she was Adele when she still had the last name.
I saw Tim McGraw at a club as he was on his way up. It was very funny is it was Terry McBride and the ride with Tim McGraw, and by the time we got there, it was Tim McGraw with Terry McBride on the ride. Terry McBride on the ride was not happy about it. It was visible from the stage that he was not happy.
I have a couple of my parents' friends because I am not as old as you clearly. I am going to keep thinking that. They know they saw Garth Brooks at a rodeo and that is their proudest accomplishment. Rightfully so, that is pretty cool.
I book concerts for a living. I was at an industry thing where Garth Brooks got a Lifetime Achievement Award. I have the world's blurriest picture of Garth Brooks and me, but they told a story about him playing those rodeos and that he booked a whole summer of fairs and rodeos and then blew up. He had booked all these shows for $20,000 a pop or something.
They were like, "They all have 90-day clauses. We can get you out of them and you can go take these money plays." He was like, "Absolutely not. We do not know how long this ride is going to last. I might be back wanting these guys to book me again in two years. If I do that to them, they won't do it. They were there for me when nobody else was. We are going to go play every one of these and we will have to make a bunch of money eight months from now. We will be fine."
Every story I have ever heard is that he is a delightful human being. That is hard to be as famous as he was as young as he was. It is a real accomplishment to get famous that young and still be a human. It is hard to do.
You get a sense of entitlement. When I met him, he walked into the room and people were mobbing him. He was totally cool with it. I got my picture taken with him and I was like, "We saw you in St. Louis. I took my mother-in-law."
That is a Dolly Parton's School of Fame. That is my favorite Dolly Parton story of all time. It is from the filming of Steel Magnolias, one of my favorite movies. Julia Roberts tells a story that they were all super hot. They were filming the Christmas thing in August or something. They are all in these sweaters. Everybody is complaining. Dolly Parton is in on this tree swing, swinging back and forth as cool as a cucumber. She says, "Dolly, how are you not miserable? All the rest of us are miserable." Dolly Parton said, "When I was a little girl, all I wanted was to be as rich and famous, and now I am. I am not going to complain." I love her so much.
Garth was like, "What is your mother-in-law's name?" I was like, "Sandy." He is like, "You tell Sandy I said hi."
My mom left that.
Most of the country stars are that I have met they almost all are very nice people.
Yes, the country music industry will turn on you on a hot dime if you make them mad, that is why.
I got nothing but a nice thing to say about Tim McGraw because he stood by them during all that.
Do you have a favorite Peloton instructor?
Everybody loves Cody. He is like a gateway drug. He is so good when you are like, "I do not want to do this," but he will keep me distracted and entertained. I will suck it up and do a twenty-minute Cody ride. I do like Robin. She is exceptionally good at her job. There is nobody that I would be like, "No, I do not take classes with them."
When I first got the bike, I made it a point to take a beginning right with every instructor so that I was understood what their jam was. I avoid Tunde and Olivia because they are hard. Although I took a couple with Callie and she is like a sneak. She was like, "Let's do 80 cadences and 80 resistance." I am like, "No, I am not doing that."
It was a bike bootcamp. I am like, "We have been on this bike for 30 seconds. Calm down." I do like her though. She is dippy. I liked her vibe. I liked all of them, and I got to know a bunch of them that I do not usually take because I started doing the Power Rides or the Power Bar, or whatever. I feel like I am the only person on the planet. I do not love Christine. I feel like she tells the same cycling stories repeatedly. The biggest thing is she and I do not share tastes in music.
You have to like a new wave of the '80s for that to click.
It is fine, but a lot of her stuff I am like, "No." She is the only one that is at the bottom of my list. I do not take Jenn Sherman a lot either because I also do not love her music taste. It is a lot of music stuff for me because I do a lot of themed rides. Although, I say that Christine is the one who did The Chicks ride.
Also, got to disagree with you on Jenn Sherman's music because she is the best at playlisting, in my opinion.
Maybe I should give it a try. Maybe I got a ride where I was like, "This is not my jam." I like Dennis because he puts you at the beat. I feel like he is good, especially in the power rides about identifying the beat of the music.
It's a real accomplishment to get famous so young and still be a human being.
Click To Tweet
Try taking an Epic Sing-Along with Jenn Sherman.
I will do that.
If you do not have fun with that, you are not going to like her, but I have a feeling you are going to have a good time.
I will do one of the Epic Sing-Along.
She is still skeptical, I can tell though.
I can see that she is fighting it.
I do not love rock music on the Peloton. I prefer hip hop or pop and a little bit of rock music. I do not know why because I prefer epic climbs to the quick cadence ones. I preferred never to go over 90.
Me too, I do not like to go fast.
I do not enjoy it. I do not know if it is because my bike is on the carpet. I have one of the mats they tell you to get in everything, but it is not my jam.
Do you hang out with the Peloton community online? I know you mentioned community rides with your podcast listeners.
I do not know if hang out is the right word for it, but I do like the Facebook women's group. I just lurk there. I do not necessarily comment that often, but they have such good tips, and I like to follow along there. I am a prolific high-fiver, if that counts. The hashtag that we made up for our podcast is #BestRideAvailable because that is a phrase we use. We say, "Have the best day available to you." The best day ever is not available to anyone almost ever. We do like, "#BestHolidayAvailable or #BestBirthdayAavailable, or #BestWeekendAvailable." The second I got a Peloton, I was like, "The hashtag has to be #BestRideAvailable." That is our shared hashtag.
What is your leaderboard name?
It is BlueGrassRed because that is the name of my old mommy blog, Bluegrass Red Head. I kept getting scared when I picked that name that I would start to go gray, and then I would like to have hitched my wagon to this redhead identity that no longer exists, but I am still going strong. I have only got a couple of grays, so fingers crossed. Both of my parents were gray by now. I am feeling confident.
That is what color is for. You go to the hairdresser and they will fix it.
For a lot of money, I do not have time for that. I got too full of a stack to get through.
Whenever I hear men complain about gray hair, I am like, "At least you have it."
My dad always says, "I would rather turn gray than turn lose." That is easier. I love this bike so much. The health system they have set up here is so good. My podcast team is so happy that I found another place to go on and on about it. We are good friends with Clint Harp from the Magnolia Network and he knows Emma. I spent 30 minutes on one of our Zoom calls, "How do you know Emma?"
Clint is the guy that does the wood on cables. Does he have a Peloton?
You need to have him on your show. He is hardcore Peloton. He is one of those people that have to break their personal records every time. That is not me. I do not care about my personal record. I do not pay attention to it. That is not motivating for me. The leaderboard is not motivating for me because of crazy people like Clint, who get on there and go at 90 cadences for the warmup, so they are number one the whole time. We all know you are doing it. It takes the fun out of it for everybody. He does that and I called him out about it. He had a picture on his Instagram with them and I was like, "What are you talking about, you know Emma? I want to shout out. Let's work on this."
Put me in contact with him. Will you help me?
I think Emma is a home Reno person. Did she build her own cabin or something?
That might be taking it a little stretch. She did renovate her house with some help, but yes.
You make her sound like Ted Kaczynski.
She did not build them from scratch with her bare hands.
There is nothing a core couldn't do. She is so nice. She is one of my favorites. I like her a lot.
I do not want people to get mad at you. She said there was nothing a core couldn't do, but she dropped out. She said core with a C.
You do not want to get added because these folks can add.
You can tell because the instructors are about half terrified of everyone they are talking to you, especially Cody. He is always like, "Do not show up if you love kitten nails. I do not want to hear it. Keep it to yourself. They are stupid. I know you all are not going to like this." It is hilarious. You can tell that they get passionate responses, which is so funny because that means you have to unclip from the bike. Remember what they said, "Go somewhere and go after them." I am like, "Lord, you all have less busy lives than me because I have a kid waiting for me as I get off the bike bothering me about something. I did forget by the time."
That cannot be a surprise you have a podcast about politics. You know people and I am sure you have people weigh in.
The nice thing about podcasting is you can't skim a podcast. If you want to listen for an hour to troll us, you could. We get more trolls from social media posts, but our listeners are thoughtful. It made me mad, but then I took a minute and like, "They have a lot of trust in us. They give us a lot of benefit of the doubt." They will be like, "You did not mean it," so I listened again and now this is where I am coming from or I realized I was mad about this. We have the most amazing audience.
We need to figure out how to inject some of that.
Ninety-nine percent of our people are amazing.
That is true everywhere. A tiny percent are sold out and they are lonely. We were reading another person's Discord page or something and somebody left. The comment is, "People are so lonely."
It is also confirmation bias. Those are the ones that you remember. It slices through and so you forget that like, "That is not what most people are saying."
Most people are too busy. They love it and they never leave a comment.
I have a show that I love that I have never interacted with, but I listen every week religiously, but I have never said, "How did you do that?"
The parasocial relationships are super weird. It is weird with the Peloton instructors. That is so amazing if the girl is sitting in front of the advertisement, but her proportion is right, so you look like she is in the picture and then you look a second longer. You are like, "She is sitting in front of me, but she is acting like she is eating ice cream and laughing." It is meeting with my podcast as friends. That is not real. I feel that way about Cody, in particular. I followed his little booty all the way to Dancing With The Stars.
That was a fun trip.
That was one of the coolest Dancing With The Stars seasons I have ever seen. I stopped watching a long time ago.
I had never watched it in my life.
I watched it from the beginning throughout probably 5 to 8 years and then stopped for a long time and then went back for Cody. I did not ultimately vote for Cody as the winner because Mon deserved it.
I am loyal Peloton. I am going to vote for Peloton.
It was so funny in the Facebook group. The people that are like, "We all love him. That is why we are here, and also, he does not deserve to win." People kept it pretty cool. Hopefully, that was a low enough takes conflict that people were allowed each other to scrape it. It felt that way on the Facebook group. Either way, no matter who you rooted for, it was such a fun season to watch.
You don't have to beat your own personal record. Peloton leaderboards don't matter to some people.
Click To Tweet
I like my reality TV, a little trash here.
That is also true. We like to watch Love After Lockup.
That is our jam. I do not know if you have ever seen it or not, but it is some next-level craziness.
I canceled my cable in 2011, which is when I stopped watching Dancing with The Stars. Honestly, I never watched shows like that anymore. It is better now. It is way easier to get all that stuff, but it used to be so hard. Back to Clint, I had no idea who he was. I had zero ideas because I canceled right at the zenith of Fixer Upper, so I have never seen an episode. I know who they are because I live in the world and shop at Target, but I have never seen an episode in my life. I have never seen an episode of Keeping Up with The Kardashians. Now, every time we go anywhere, Clint is like, "This is Sarah. She did not know who I was." I did not know who you were, sorry.
I would love to be able to get in contact with Clint and invite him to the show.
He loves his Peloton. I will hook you all up.
Thank you. Before we let you go, remind everybody where they can find you and all of your things.
We are at PantsuitPoliticsShow.com. You can find our podcast, wherever you get podcasts and our book, wherever you get books. We are on Instagram @PantsuitPolitics.
Thank you so much for joining us. We really appreciate it.
Thank you.
—
I guess that brings this episode to a close until next time. Where can people find you?
People can find me on Facebook at Facebook.com/crystaldokeefe. They can find me on Instagram and Twitter, and on the Peloton leaderboard @ClipOutCrystal.
You can find me on Twitter @RogerQBert or Facebook at Facebook.com/tomokeefe. You can find the show online at Facebook.com/TheClipOut. While you're there, like the page and join the group. Don't forget our YouTube channel, YouTube.com/TheClipOut. That's it for this one. Thanks for tuning in. Until next time, keep pedaling and running.
Important links
About Sarah Stewart Holland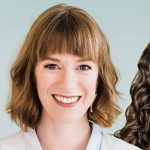 Sarah is the cohost of the political podcast Pantsuit Politics and coauthor of I Think You're Wrong (But I'm Listening) A Guide to Grace-Filled Political Conversations.
Wife. Mother of three boys. Eighth-generation Kentuckian. Sarah is also served on the Paducah City Commission. Before turning to the mic, Sarah wrote about parenting and politics on her blog bluegrass redhead. Her writing has also been published on the Atlantic, Huffington Post, Scary Mommy, and BlogHer.
Love the show? Subscribe, rate, review, and share! https://theclipout.com/