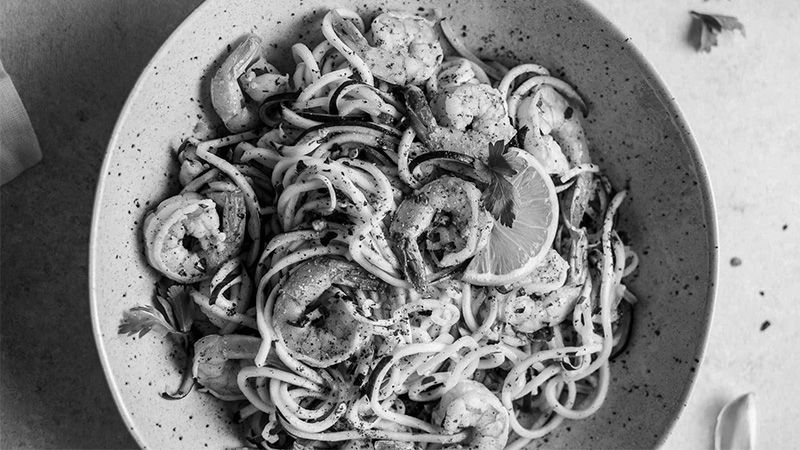 15 Minute Garlic Shrimp Zoodles
Jenn Sherman: Episode 11
Jenn Sherman gives us a fun recipe to say (and make) over and over again in Episode 11.  
Easy, delicious, low-carb lemon and garlic shrimp with zucchini noodles – find the original recipe here. 
2 medium zucchini
Juice and zest of 1 lemon
Salt & pepper, to taste
3/4 pounds medium shrimp, peeled & deveined
3-4 cloves garlic, minced
Chopped fresh parsley
1 tablespoon olive oil
Red pepper flakes (optional)
Prep

Cook

Ready in
15 minutes
Directions
Spiralize the zucchini on the medium setting. Set aside.
Add the olive oil and lemon juice & zest to a skillet on medium heat. Once the pan is warm, add the shrimp. Cook the shrimp for one minute per side.
Add the garlic and red pepper flakes. Cook for an additional minute, stirring often.
Add the zucchini noodles and stir/toss (e.g. with tongs) constantly for 2-3 minutes until they're slightly cooked and warmed up.
Season with salt and pepper and sprinkle with the chopped parlsey. Serve immediately.